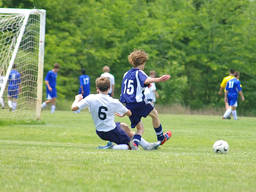 Kids playing soccer
Known in Europe as Football, Soccer is played on a rectangular ground with goal nets at either end, each two teams have eleven players, who score goals by directing the ball into the opposition's net, which is guarded by a goal keeper. Football has been played in various forms since medieval times in Europe, however, soccer as we know it today was officially formed at Cambridge University in 1848, established in Australia in the 1880s, with the professional A-league domestic tournament in effect since 2005. The sport enjoys global popularity, played recreationally and professionally by over 250 million people in over 200 countries. FIFA is the international governing body of football.
A round ball is kicked or passed with feet, head, chest and knees. No hands or arms can touch the ball, except for the goal keeper's. A goal is scored when the ball is directed into the opposition's net. Scoring into your own net gives the opposition a goal.
Games are played in 2 halves of 45 minutes each. In some competitions, two further 15-minute periods may be played if both teams are yet to score, followed by a possible penalty shootout. In professional soccer, scoring is a rare and triumphant occasion. Players engaging in rough or illegal behaviour must watch out. The referee can assign yellow (warning) or red cards (suspension).
A video of Soccer for Kids
Soccer Training for Kids (intermediate) . Great tricks and skills for your kid to improve at soccer.
Information on Soccer for Kids in Australia
Is this sport for your kids?
Soccer focuses on speed, agility, coordination and teamwork. Strategy is also implemented to broach the opposition's defence.
Soccer is widely played in Australia,at both a professional and recreational level.There are many Soccer Clubs and Soccer Associations to join. Children 3-5 years can begin Soccer for as little as $150 per term (depending on location), with corresponding programs for older children. Registration for a season is in Feburary or March and costs on $200 for the season.Children learn coordination, concentration, teamwork and strategy, whilst developing fitness and social skills. It is a non-contact sport, although some contact can occur at professional levels.
Get started!
Equipment and clothing children will need:
T shirt and shorts
Soccer boots (runners for junior levels)
Long soccer socks
Shin Guards
Soccer ball for practice
At later levels, shin guards and mouthguards must be worn. You can play Indoor Soccer or outdoor soccer Australia-wide. You will find everything you need to know on Soccer in your local area in the ActiveActivities directory.
Tips for success
Practise footwork and running with the ball in your backyard at home
Kick a ball with friends during recess or lunchtime
Practice your juggling: Juggling in soccer is when you see how long you can keep the ball in the air without it touching the ground.
Stars and events not to be missed!
Played seasonally, the domestic A-League competition is popular, with crowds of up to 50,000 in attendance.
Australian success in international soccer is growing. The Australian Socceroos, the Australian soccer team, qualified for the last two World Cup Series'. For Australia's second qualification of all times. The Socceroos reached the 1/8 finals in Germany in 2006 and lost 1-0 against Italy, the future world champions. We qualified for the second time in a row in 2010, but lost at the first stage of the competition held in South Africa. Our star players are Harry Kewell, Lucas Neill and Tim Cahill who all play in European leagues.
Still hesitating while trying to choose between all kids' activities?
Articles related to your search: