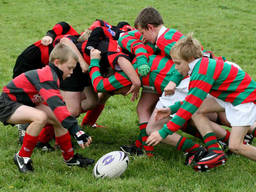 Kids playing rugby union
Rugby Union is a full contact ball sport originally from England. Most reports suggest it originated as early as 1823, at a British school fittingly named ?Rugby. Rugby folklore says William Webb Ellis was the inventor of Rugby as he caught the ball while playing football and started running with the ball in his hand towards the oppositions goal posts. However, there is not evidence to prove this story. Played with an oval ball on a rectangular (100m x 70m) rugby ground, it is a sport most commonly played in Australia, New Zealand, the UK, South Africa and the Pacific Islands. Each side comprises fifteen players and at a competitive level is played for 40 minutes per half.
Scoring:
A try (5 points) is when a player manages to break through the opposition's defence and place the ball on the ground in the ?in-goal area'
A conversion kick (2 points) is awarded after a try is scored, and must be kicked through the goalposts to register
Drop kicks or penalty kicks can earn three points
A video of Rugby Union for Kids
Watch that Rugby Union game to learn a bit more on kids playing rugby...
Information on Rugby Union for Kids in Australia
Is Rugby Union for your kids?
Rugby Union is a full contact outdoor team sport that focuses on teamwork, speed and strength. It is perfect for children who enjoy being social and relish physical kids' activities. Kids starting out usually start with touch rugby , learning tackling skills from U8's upwards. Skills that kids can learn or improve whilst playing rugby are:
Teamwork
Ball skills
Use of strength and agility
Confidence within a group
Getting and staying fit
Get your kids started!
Junior rugby union can be started by children 4 years old and upwards. Junior rugby union clubs or leagues are most commonly found in Queensland (QJRU) and NSW (NSWJRU). Once thought to be a boy's game, girls' teams are now increasingly common.At the junior level both boys and girls play in the same teams.
Initial equipment required is basic since contact is limited in junior ranks ? a good pair of sports shoes, and clothes that you don't mind getting dirty! As children get older, it is advised to have protective clothing and equipment, such as:
mouthguards
Protective head gear
rugby jerseys - normally supplied by the club for the season
studded boots
rugby union ball
Rugby union is very much a team game. Whilst individual skills like kicking and passing can be practised solo, it is recommended that children practice in groups under supervision of a rugby union coach, guardian or parent.
Stars and Events not to be missed!
Rugby is a key sport in Australia with the national team, The Wallabies winning both the 1991 and 1999 Rugby World Cups, with past stars as John Eales and David Campese. The Australian rugby union team, the Wallabies, has an intense rivalry with the New Zealand team, the All Blacks. Both teams battle it out annually for the Bledisloe Cup.
Articles related to your search: