Rugby league school holiday Activities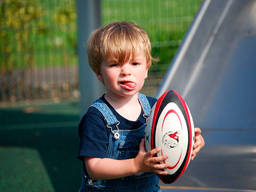 A toddler holds onto a football after playing pass with his friends
Rugby League school holiday activities are continuing to spruce as kids get more exposed to all kinds of sports – including team sports. Rugby League or rugby league football is a full contact sport which originated from England in 1895. Since then, rugby league has been predominantly played in countries like Australia, France, New Zealand, Papua New Guinea, and Tonga.
Category: Sports
Approximate age to start (name of activity): 5
Approximate price: Average price of $415
Gear/equipment needed and approximate price range: ankle guard ($40), football ($30), helmet ($80), mitts ($15), mouth guard ($10), shin pads ($14), shoulder gear ($120), rugby camp ($415)
This activity comprises of: coaching, pitching, retrieving, tackling, rugby league rules, rugby league camp for kids, training
Best period of the year: School holidays
Most appropriate region: Australia.
School holiday programs available: YES
A video of Rugby league school holiday Activities
Six year old boys playing an amazing rugby match
Information on Rugby League School Holiday Activities for Kids
Are rugby league school holiday activities for your kids?
Not sure if rugby league school holiday activities are for your kids? Parents always fear for their children. It is only natural to be protective of our babies no matter how grown they are. Safety and protection are major concerns for parents when considering activities for kids. Like all summer camps, rugby league programs are age-specific, and especially designed to make rugby league school holiday activities the best amongst kids activities.
Rugby league school holiday activities for kids aim to teach your children the basics of rugby league junior. Rugby league school holiday activities allow children to develop their skills before advancing to more critical levels of rugby league programs. ActiveActivities directory is a great source to know more about rugby league school holiday activities. It has an informative section on rugby union for kids, so that parents can make a good decision when considering rugby league as a sport for their kids.
Rugby league school holiday activities are guided by professional and well-experienced coaches who will train your kids to value discipline, healthy living, leadership, sportsmanship, and team work. To ease your worries, rugby league school holiday activities are conducted in a fun and controlled environment to make sure that kids will move across the field and enjoy rugby league junior!
Tackle rugby league school holiday activities!
Australia has excellent rugby league school holiday activities for kids which foster good playing foundations for rugby league junior. This can eventually lead your children to play professional rugby league, and make them the next generation of rugby league superstars!
Rugby league junior is applicable for kids ages 5 and up. Since rugby league is a physically demanding sport, parents must know whether their kids are strong enough to run across the field to score some goals or to tackle an opponent who has control of the football. Needless to say, toddlers are not eligible to play this sport. However, you can expose them to rugby league programs by taking them to matches. This is a stepping stone for them to grown an interest for rugby league school holiday activities. Compared to American Football, tackling in Rugby League is only limited to the player who is moving with the football.
To make sure that our kids are protected when playing, there are some things which you need to buy to minimize the risk of injury. Some of these items, however, are provided by the camps when they are enrolled in rugby league programs. Check out the following:
Ankle guard
Football
Helmet
Mitts
Mouth guard
Shin pads
Shoulder gear
Let your kids enjoy rugby league school holiday activities! Check out ActiveActivities Directory to see a list of rugby camps near you.
Articles related to your search: