Rugby clubs for Kids in Brisbane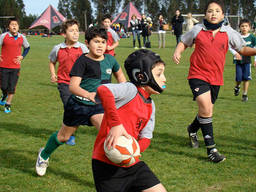 Parents can relax, Rugby is not that tough for kids. It is a contact sport, obviously, but it is one of the most popular junior sports among kids today. If they like activities for kids that involve running around the field and getting down and dirty, then they should try playing rugby. Rugby lessons will teach them basic skills in a fun and safe environment. For them to further understand the sport, why not encourage them to join rugby clubs for kids?
A video of Rugby clubs for Kids in Brisbane
A local junior rugby club in Brisbane talks about their favorite rugby teams.
Information on Rugby Clubs for Kids in Brisbane
Why are rugby clubs for kids in Brisbane great activities for your kids?
Brisbane, Queensland is one of the places in Australia where rugby is most popular – so it might be ideal to join rugby clubs and try out rugby in Brisbane. Most rugby clubs for kids accept members aged 5 years old, and they begin participating in competitive games at age 6.
There are two kinds of rugby – rugby union and rugby league. Both Rugby union and rugby league clubs are available for kids in Brisbane. You can find in our ActiveActivities Directory the list of available rugby clubs for kids in Brisbane.
Rugby clubs for kids incorporate play with training so the kids learn the basic concepts, values, and skills while enjoying kids activities with their peers. When they are ready, they can join the junior rugby league in Brisbane. Junior rugby league teams are composed of kids aged 6 to 18. Junior rugby games can be played by rugby clubs tand also o represent schools or communities.
Encouraging your kids to participate in sports will not only help them become fit and physically active, it will also develop in them passion and purpose. Joining rugby clubs for kids can help them develop an interest for the sport. They might want to pursue it when they get older and join the state team, and then eventually the national team, and participate in interstate and international competitions like the Rugby World Cup.
The most popular professional team in Brisbane is the rugby league club Brisbane Broncos. They play in the National Rugby League and have won six times. They have also won twice in the World Cup Challenges. The Broncos are the most successful rugby club in the history of the sport, having won 63% of their games since they were formed in 1988. The national team for rugby union is the Wallabies, and the Kangaroos for rugby league. Both teams play in the international Rugby Championship and the Rugby World Cup.
Aside from Brisbane, other areas in Australia where rugby is popular among kids and adults are New South Wales and the Australian Capital Territory. Our ActiveActivities Directory provides details of rugby clubs for kids available in these areas.
Before looking for local rugby clubs for kids in Brisbane or other areas, there are things you need to consider. Make sure that this is the kind of sport your kids are interested in. Rugby is a contact sport. If they like non-contact sports they can try netball, or baseball instead. Although rugby is suitable for both boys and girls, it may not be appealing to most girls. Gymnastics,ballet, and many other sports and classes are also available in Brisbane where you can enrol your daughters.
If you decide to let your kids sign up for rugby clubs, they will need the proper rugby gear – rugby boots, rugby socks, rugby shorts, jersey supplied by the club, and a mouth guard. The wearing of head gear is encouraged. All these can cost around $150, including club membership fee.
Joining rugby clubs is a great way to keep your kids occupied during your holidays in Brisbane. Sports are also great forms of exercise. If you are in Queensland, let your kids sign up for rugby clubs for kids in Brisbane during the school holidays. Watch them enjoy playing the game with new friends. Who knows, they might become a member of the Brisbane Broncos in the future!
Articles related to your search: