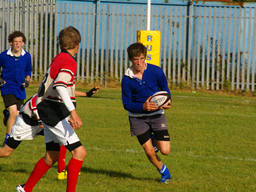 Rugby League for kids
Rugby league split from rugby union in Australia in 1907. It quickly became the dominant footie code in Queensland and New South Wales. Rugby league is frequently cited as the toughest, most physically demanding team sport.
A video of Rugby League for Kids
Whatch that 6 year old phenomenon playing Rugby League!
Information on Rugby League for Kids in Australia
Is Rugby League for your Kids?
The tough, physical nature of rugby league puts off many parents, but rugby league is actually less injury prone than AFL, basketball, soccer, and several other top sports, and modifications such as Mini Footy and Mod Football League, and initiatives such as the National Safeplay Code and the Kids to Kangaroos program further ensure kids can learn to play rugby league safely.
As one of the most popular kids' activities, Rugby league confers health and other benefits, including:
Fitness and endurance
Strength
Agility
Team skills
Social skills
Communication skills
Self-discipline
Get Your Kids Started!
The first step in getting your child started in rugby league is to find the setting that will best suit your child's needs. This may be a school rugby league program or a rugby league club or indeed just a convenient area where mates can get together and play.
Registration for rugby league clubs is usually in February and may involve a fee of some $80, depending on location of the rugby ground and what is provided. For this, kids will usually score a jersey?sometimes just for the season but sometimes to keep. For children up to 12 years, it may not be necessary to buy any special clothing?even shoes. Past this age, boots ($30-120 depending on brand and model and supplier) and socks (around $10) will be required.
One piece of equipment that should be used from the youngest age is a mouthguard. You can buy ready fit ones for as little as $10 but they provide inferior protection and may well be so uncomfortable they will not be worn. Custom-made ones are expensive but do a much better job of protection and should be far more comfortable to wear. Other protective wear that can be worn are shoulder pads ($50-130 depending on brand, model and supplier) and headgear ($30-100).
If your child wants a ball to practice with, this may cost from $15 to $90 depending on quality and outlet.
Stars and Events not to be missed!
Every National Rugby League game is screened. In Queensland and New South Wales, State of Origin has the largest audience of any TV program.Rugby league is the most watched sport on Australian TV and star players are idolised.
Mal Meninga is a legendary goal kicking centre, who is counted amongst the best footballers of the 20th century
Wally Lewis is an immortal
Andrew Johns (joey) is well on the way to be immortal
Darren Lockyer, Brad Fittler, Steve Mortimer - the list goes on..........
For any up and coming rugby league player there are a number of international tournaments to be training for:
Rugby League world Cup
Four Nations
Pacific Cup
Atlantic Cup
Have fun kids and remember to stay safe!
Articles related to your search: