Indoor Soccer (Futsal) For Kids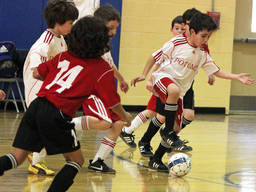 The most popular sport today: soccer! Get your kids to try it indoors!
Indoor soccer, also known as futsal, is simpler version of the regular soccer. The same rules apply but it is played on a smaller indoor field, almost the size of a basketball court, and played with a smaller ball. Indoor soccer was introduced in Australia in 1971. Now there are 18,000 registered indoor soccer players and 120,000 social participants in competitions nationwide.
A lot of utdoor soccer players also play indoor soccer or futsal during the off season so they can still practise and refine their skills. Famous soccer players including Portuguese Cristiano Ronaldo admitted that indoor soccer helps them develop their skills and technique.
For younger children or beginners you may consider kids try out indoor soccer first before playing outdoor soccer so they get to learn the sport in a more controlled environment. It also gives them a better understanding of the sport and the drills since they are playing in a smaller area with fewer players and more defined movements.
A video of Indoor Soccer (Futsal) For Kids
Great soccer players like Ronaldo and Ronaldinho used to play indoor soccer when they were kids. It helps build better soccer skills and technique because of a smaller ball that is easy to control and a smaller paly area that creates more defined movements.
Information on Indoor Soccer (Futsal) For Kids
Is indoor soccer for your kids?
Indoor soccer (or futsal) is the only indoor sport recognised by FIFA. It is considered as one of the best indoor sports because it helps a lot in skill development especially for kids who are just beginning to learn kid?s soccer. Most indoor sports centre and soccer clubs offer indoor soccer training for kids as young as 5 years old.
If your kids are very active and like running around, we recommend indoor soccer because it will provide the following advantages :
Safety
Indoor soccer eliminates injuries associated with outdoor soccer as tackles are forbidden. Players also tend to be more controlled with their running and kicking because of the smaller area.
Better Skills Development and Technique
Smaller play area and shorter game time gives the players more touches with the ball. Indoor soccer also helps develop balance, coordination, ball control, fast reflexes, and better strategy. The ball is also smaller than the regular soccer ball which makes it less bouncy and easier for the kids to control. The smaller ball also makes this sport one of the recommended activities for kids with disabilities.
Affordability
Kids can play indoor soccer anytime and anywhere they want. They can play it in basketball courts or anywhere with flat surface.
Practising soccer drills everyday is important to become a good soccer player. But it is sometimes impossible to train outside especially during bad weather. Through indoor soccer, your little players can train everyday and become experts on the sport. The following are some indoor soccer drills for kids that are commonly practised :
Basic Attack
Players are divided into two lines inside the midfield when practising Basic Attack. This drill will help them learn to rebound.
Advanced Attack
Advanced Attack works the same way as Basic Attack, but the player are divided into three lines instead of two.
Horse
This trains players to kick from five different positions into an untended goal. This drill is called Horse because the five positions ? stations near the penalty kick spot, corners of the penalty box, and the wings ? are marked H, O, R, S, and E.
The Glob
This drill helps in mastering changes in direction. All players are on one side of the pitch and the Glob (two or three persons) is on the other side. The players run towards the other side without being tagged by the Glob.
The rules of indoor soccer are almost similar to the regular soccer game, but with a few modifications because of the smaller area and less number of players. For kids soccer there should be only 5 to 7 players on the field. Indoor soccer shoes need to be flat shoes instead of cleats. Matching uniforms or jerseys per soccer team is still required, as well as safety gear including shin pads and socks.
Whether you are looking for a place for your kids and their team to train and play indoor soccer or just a place for them to have fun, there are many programs and soccer leagues available in indoor sports centres. These youth indoor soccer leagues are divided into age groups like groups for U6?s,U8?s, and U10?s. Indoor soccer competitions run all year round so your kids can join a team anytime. You can browser our ActiveActivities Directory for more tips about indoor sports and other kids activities.
Make the best soccer players out of your little ones. Introduce them to the world of soccer by getting them to try indoor soccer!