Golf Lessons for kids in Melbourne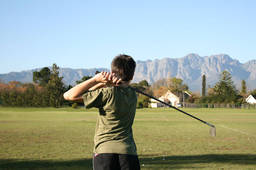 Golf has a rich history in Australia, and particularly Melbourne. The Australian Golf Union (AGU) was founded in Melbourne in 1898. The AGU organises Australian golfers to compete in international amateur and junior competitions. Golf has come a long way from its elite beginnings, and can be enjoyed by people from all walks of life. Men, women, adults, and chidren can all enjoy a day on the green. Melbourne is world-famous as a golf-lovers' paradise, with a high concentration of public and private courses. Many courses offer all-weather options, so you can enjoy this great outdoor sport rain, hail, or shine!
Category: Sports
Approximate age to start: Any Age
Approximate price:$50 - $90 per lesson
Gear/equipment needed and approximate price range: Golf clubs. $50 per hire or starting at $200 to buy
Best period of the year: Year-Round
School holiday programs available: Yes
A video of Golf Lessons for kids in Melbourne
Let 4 year old Kiehei inspire your kids with his amazing golf skills!
Find out about golf lessons in Melbourne
Why enrol your kids in golf lessons in Melbourne?
Australia is known for its beautiful weather, and golf is the ultimate outdoor activity for kids. With plenty of public access golf courses scattered through the city and its surrounds, Melbourne is a great place for little golfers to practice their craft! So if you're looking for a great kids activity for your children, why not try golf?
Melbourne is a golfers' paradise. There are over 135 golf courses in Victoria, and your family can choose from a great range of public-access and private golf clubs in Melbourne. Public golf courses are the best option if your child or toddler is just starting out. They are open to the public for a modest fee, and will allow your child to get a feel for golf without breaking the bank. Some public Melbourne golf courses include:
The Growling Frog Golf course
This course is owned by the City of Whittlesea, and includes a driving range, equipment hire, and a restaurant.
Morack Public Golf Course
This picturesque 18-hole course is owned by the City of Whitehorse Council, and is open every day of the year except Christmas.
Burnley Golf Course
This course is owned by the City of Yarra. It's a quiet, 9-hole course suitable for inexperienced through to skilled golfers.
Dorset and Ringwood Golf Courses
Owned by Maroondah City Council, these 18-hole courses are popular and picturesque.
Golf Victoria is the parent body for golf clubs in Victoria, and organises a variety of events and competitions for junior golfers at all skill levels. If your child is seriously interested in golf, get them to take part in a Golf Victoria event!
Get your kids started playing golf in Melbourne!
Is your kid interested in starting golf lessons in Melbourne? Most public access golf courses can arrange private lessons from a professional golf teacher for around $50 - $90 per hour. Most courses don't have a minimum age requirement, so if your kid is old enough to pick up a club and take instruction, they are old enough to start golf lessons. If you are a member of a golf resort or country club, you can also enrol your child in lessons there. You might also consider teaching your child how to play yourself. Because of its great number of public access golf courses, Melbourne golf prices are reasonable when compared with other cities – you can expect to pay around $40 per person for an 18-hole public-access course.
Most public-access golf course will offer golf equipment hire for around $50. Over time, however, it will be more affordable to buy your kid their own set of clubs. There are plenty of golf stores in Melbourne, and you can expect to pay upwards of $200 for a decent set of clubs. Children need different sized golf clubs. Ask the sales assistant to help you find the right size clubs for your child's age, height, and weight.
If your whole family is interested in golf, you might like to consider a Melbourne golf package. Most golf courses offer ""stay and play"" holiday packages. Check with your preferred golf course to see what kinds of packages they offer.
You can find a list of golf courses and lessons in the ActiveActivities Directory.
Many organisations also offer school holiday programmes for golf. These involve an intensive programme of golf lessons spread out over a number of days. School holiday golf programmes are available for beginners through to experienced players. Check with your local golf course.
If your child is nervous about starting out at a proper golf course, or you are worried about the costs involved, why not suggest mini-golf? Mini-golf uses many of the same skills as golf, and will help your child hone their skills and decide if they want to take the sport further.
Articles related to your search: