Golf classes for kids in Melbourne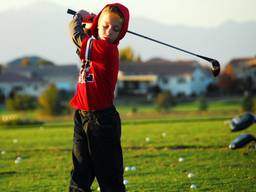 Playing golf can help your kids learn self-discipline and good sportsmanship! Do you want your children to start enjoyable activities for kids? Teach them how to play golf- a fun sport that toddlers can learn and master with the help of talented instructors. Enrolling your children in golf classes in Melbourne, Australia can help them learn self-discipline and good sportsmanship!
Category: Sports
Approximate age to start golf: 5-12 years old
Approximate price:$50-$100
Gear/equipment needed:Golf clubs, gloves, shoes
Best period of the year:Any time of the year
Most appropriate region:NSW and VIC, where you'll find the most golf courses
School holiday programs available: YES
A video of Golf classes for kids in Melbourne
A young boy practices golf at a driving range.
Information on Golf Classes for kids
Why is Melbourne a great place for your kids to take golf classes?
While some people balk at the thought of teaching young children golf – a sport most people consider a complicated sport – they don't realize the fact that it is one of the best kids activities for toddlers to participate in. Golf classes in Melbourne can certainly help children learn how to be better at this sport. You can choose from several excellent golf clubs in Melbourne to ensure that your toddlers can have the best golf teachers. It is important to do your research to find the best Melbourne golf courses, Melbourne golf prices, and Melbourne golf packages for your kids.
Golf is a kid-friendly sport – boys and girls can even play it alongside each other! There are no rigid requirements for this sport – children can learn how to play golf better through golf resorts of country clubs. Your children can also learn how to enhance their ethics and integrity since golf is a sport that highly prizes both values.
Get your kids to start joining golf classes!
Younger children can start with mini-golf: a variation of golf that focuses on the putting aspect. Even parents can join in on the fun while also giving their toddlers fond memories of time spent with their friends and family. After getting used to the gameplay of golf through mini-golf, older children can progress to being taught by golf teachers and participating in golf classes in Melbourne.
For a comprehensive list of golf stores in Melbourne, Melbourne golf prices or Melbourne golf packages, parents can check out the Golf Victoria homepage or the ActiveActivities directory.
Golf Victoria is the governing body for Victoria, Australia. Golf Victoria aims to endorse golf as an enjoyable sport while also encouraging people from different backgrounds to take part. Parents of potential golfers can look at the MyGolf Junior Program and the Stuart Appleby Junior Golf pages for detailed information.
Keep in mind that younger children need a golf teacher who knows how to balance fun and learning. Golf can be technical at times and toddlers will need to practice with determination to be their best at the sport. Consider golf classes in Melbourne that will provide your children with the necessary foundation, along with varied chances to practice and play the sport.
Still need convincing before you enroll your children in golf classes? Listen below are several reasons why golf is one of the best kids activities:
Golf is Fun – Learning all the basics and becoming better at it is enjoyable, and anyone from Australia can have fun playing this sport with their friends and family.
It is a Sport Anyone can Participate in – There is no specific age, height or weight requirement for golf players. Golf can be played without a judge, and newcomers can play with professionals. Peole who are not that athletic can practice and master golf with the help of golf teachers.
Social Connectedness - Since anyone can play, children can learn how to get along with older players who can also help them get better at playing golf. It is never too early to make social connections- participant of all ages can network while also enjoying golf.
A Chance to Earn College Scholarships – Like with any sport, toddlers can have a better chance of earning college scholarships the more they practice. It is perfectly fine if children play golf for fun and recreation, but it will be more fulfilling if they can improve enough to get a scholarship while doing something they love.
Frequent Exercise – Children who play golf will also have an excellent reason to go outside and have fun while playing outdoors- something toddlers need regularly to remain healthy as they get older.
Visit our ActiveActivities directory for more tips on Golf Classes in Australia, along with other kids activities that will be enjoyable for your children!
Articles related to your search: