Cricket Coaching tips for Aussie kids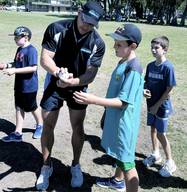 Cricket coaching in school holidays is a perfect time to ensure cricketing skills don't become rusty for junior cricketers of all abilities.

During school holidays, many junior cricketers take a break from competitive cricket. But, this does not mean that you cannot maintain your form as a batsmen, bowler or fielder. In fact, the school holidays gives you plenty of time to continue practicing your game so that when the season recommences, you can remain at the top of your game.

You just need a plan and some creativity!

Here are some coaching strategies junior cricketers can use to stay in form year round...
School Holiday Cricket Coaching – Net Sessions
Round up a group of mates, anywhere from two to six teammates is a good starting point. Then, organise to meet at a local park that has safe and reliable cricket nets.
Aim to spend about one hour with your teammates practicing in the nets.
Each batsman should aim to bat for between 10-20 minutes facing different types of bowlers e.g. fast, swing or spinners.
Each batsman could be set with a scenario. For example, one batsman would need to face 10 overs without being dismissed. Another scenario could be one batsman is faced with a target of 50 runs in 30 balls. Of course, both bowler and batsmen will need to judge fairly what constitutes a single, a two and three and so on.
School Holiday Cricket Coaching - High Catch Competition
Gather your teammates and head to your local park. Get your hands on some tennis balls and a tennis racquet.
One player would be responsible for striking catches with a tennis racquet whilst the other players would face the tough task of catching high balls struck into the sky!
To make this session more competitive, perhaps you could put a prize up for grabs. For example, teammates could pool their money and buy some lunch or a drink for the player who takes the most catches!
Alternatively, you could set up a boundary with some markers or cones and practice taking high catches like your twenty 20 heroes do.
School Holiday Cricket Coaching – Six Hitting Practice
Golfers head to the driving range to work on their swing and their ability to strike the ball off the tee over long distances. Cricketers can do the same but with a cricket bat! Once again, take your mates to a local oval that has a synthetic cricket pitch in the middle of the ground. You will need six cricket balls and some cones or markers.
One player stands in the middle of the cricket pitch underarms the ball at batsmen standing to wait to strike the ball as far as they can. Batsmen should get three consecutive balls to strike as far as they can into the outfield. The player who strikes the ball the longest distance wins the competition!
Alternatively, set up a small boundary with your markers. Again, a batsman faces three consecutive balls and should aim to strike as many sixes as possible.
One other routine could be incorporating batting placement into this game. Batsmen would be required to strike the ball as far as they could as well as being accurate with their striking. By setting up goals or targets for batsmen to hit, this can help each player to improve the effectiveness of their aggressive batting!
For more information about cricket coaching activities or school holiday camps for young cricketers, please contact the expert contributor.
Articles related to your search: