Football (AFL) for kids in Victoria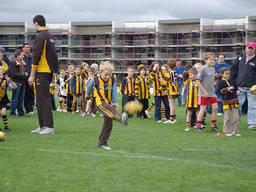 Ball sports for kids are the most popular sports among children today. Ball sports might appear more appealing to boys, as most of them are contact sports, but both boys and girls can equally participate in the sport. The most popular among the ball sports for kids in Australia is football or AFL. If your family is living in Victoria, you can introduce football to them by watching a kids football game or letting them join youth football team. Get them involved into sports!
A video of Football (AFL) for kids in Victoria
Contact sports like AFL tend to be more appealing to boys than girls. But the sport is actually open to anyone who wants to try it. Here are some clips from the 2010 AFL Victoria Youth Girls Metro Junior Championship.
Information on Football (AFL) for kids in Victoria
Why playing football in Victoria is a great activity for your kids?
Victoria is the home of Aussie football or AFL, with the first ever Aussie football game played in Melbourne in 1859. 10 of the 18 Aussie leagues are Victorian football leagues, managed by AFL Victoria, and the traditional AFL Grand Final is always held at the Melbourne Cricket Ground. That's why football is one of the most popular activities for kids in Victoria.
One way of introducing football to Victorian kids is to make them aware that AFL was originally considered as Victorian football before it was called Australian football. A kid can only be called a true Victorian if they have tried playing football. You can also bring them to the AFL Hall of Fame and Sensation, the newest family attraction in Melbourne, Victoria. Your kids will definitely be awestruck with the museum's features as it is now considered as the most technologically advanced interactive museum in Australia. They can even play a virtual kids football game!
Bringing them to AFL stadiums will also help gain interest with the sport by letting them feel what it feels like being in the stadium, showing your football skills and being admired by many. AFL stadiums also hold lots of football memories. The most iconic AFL stadium in Victoria is Victoria Park, where legendary football and cricket games happen. Other AFL stadiums in Victoria are Melbourne Cricket Ground, Docklands Stadium, and Kardinia Park.
Get your kids to play football!
As AFL in Victoria is very popular, football lessons are available for kids organised by youth football associations. Your kids can learn to play football by signing them up for sports camps, school holiday activities, and after school activities. Visit our ActiveActivities Directory for the available junior football clubs and lessons in your area, as well as other kids activities in Victoria.
Sports is a serious business for most Victorian kids. Aside from the obvious health benefits, sports can also help kids learn important skills and concepts like playing fair, teamwork, and good sportsmanship. Your kids can begin learning football at the age of 5. AFL programs are divided into age groups – AFL Rookie for 5 to 8 year olds and AFL Pro for 8 to 12 year olds. If you think football is not for your kid, another sport that is popular in Victoria is cricket.
Encourage physical activity to your kids. Introduce them to Victoria's sport – football!
Articles related to your search: