Australian Football (AFL) for Kids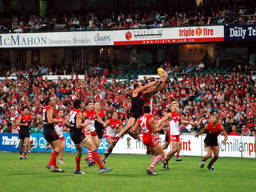 Want to kick-start your kids' fitness and team skills? Try Australian football! Usually known as AFL or Aussie Rules, it's a sport in which two teams of 18 players compete to kick a ball through their opponent's goal. The team with the highest score wins. Australian football is played on a specially designed football ground.
AFL has been around since the mid 1800s although its origins are unclear. The sport is dominated by the Australian Football League where clubs compete throughout the season, culminating in a Grand Final. It is one of the most attended sport in Australia, but is particularly popular in Melbourne, Adelaide, Perth and Brisbane Regions.
A video of Australian Football (AFL) for Kids
10 and 12 year old kids show their shooting skills at Australian football! Your own kid may one day be as performant as them!
Information on Australian Football (Afl) for Kids in Australia
Is Australian Football for your kid(s)?
Aussie Rules (AFL) is one of the most popular kids activities in Australia. It is widely played in schools and through a number of associations nationally. Children of any age can learn basic skills and participate by kicking a ball around although more formal tuition usually starts around age 6. Some benefits may include:
Improved physical fitness, and particularly sprint and endurance
Increased hand - foot - eye co-ordination, as you can play with hands and feet
Develops team skills through communication and strategy development with his team mates
May improve confidence
Provides opportunities to make friends
Learning Australian football could also be a good way to help your kid solve some social integration or discipline issues. He will have to fit in and work for the team, report to a coach, and execute his directives.
Mostly aimed at boys, Australian football is a quite physical contact sport and suits children with high energy levels and who are fairly resilient. It goes without saying that you probably shouldn't push your kids to play a sport that might be a bit too rough for them.
Get your kids started at Aussie Rules!
To get involved in AFL the first step is to register with an official AFL association or AFL club. The main national programme for 5-12 year olds is Auskick which is available widely through primary schools or clubs and teaches basic ball skills and the fundamentals of the game. To find your closest Auskick programme you can search online.
Australian Football is a winter sport with club registrations taking place around February/March each year. Once you have registered your child you can usually purchase clothing or a uniform from the club and your child will need a good pair of running shoes or football boots.
To join the Auskick programme it usually costs around $50-$65 depending on location.
Suggestions for parents who are starting their children in AFL include:
Remember they may have to play in cold or wet weather and prepare them for the possibility
Get involved as an assistant coach or volunteer for a fun bonding opportunity with your child
Stars and events not to be missed!
The main Australian football event of the season in the Grand Final which takes place on the last Saturday in September each year. The AFL hall of fame includes football players such as Gary Dempsey, Ken Farmer and Reg Hickey.
Articles related to your search: