American football for kids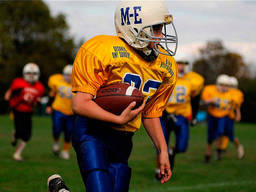 Want to start-up and advance your kids motor and social skills in a high adrenaline sport? Well American Football for kids is the right game! American Football or most commonly known as Gridiron Football in Australia originated from rugby and soccer in which the very first game was played on November 6, 1869 under the rules corresponding with those of rugby and soccer. Let your kids try this fun sport and they might just be the future pro footballers in their generation!
Category:Sports
Approximate age to start American Football (Gridiron):5 years old
Approximate price:Half day (10 and under) - $150
Gear/equipment needed and approximate price range: Football helmet - $200, Mouthpiece - $20, Shoulder pads - $100, Jersey - $60, Football pants - $20, Footbal socks $10, Football Cleats - $30
This activity comprises of: Leagues, Games, Events, American Football training, Summer workshops
Best period of the year:Dry Season
Most appropriate region: Sydney, Melbourne, Adelaide, Brisbane
School holiday programs available:YES
Information on american football for kids
Is American Football for your kids?
In Australia, American Football or Gridiron is gaining media popularity in which The National Football League is broadcast on several channels such as Foxtel and Austar. Some American football facts that are interesting to know include:
The very first fully organised gridiron teams in Australia were formed in Melbourne, Victoria while the first games of gridiron football in Australia occurred during World War II.
6 out of 8 states in Australia run Gridiron Leagues, composed of 70 teams in total.
American Football player, Colin Ridgeway was the first Australian to play in the NFL, where the most popular American Football Teams play.
American Football phrases, "We didn't lose the game; we just ran out of time. Winning isn't everything, but wanting to win is." was quoted by Vince Lombardi, 1960s NFL Football coach
If you find your kids wanting to learn more about this sport, let them learn the basics of playing! Very young children should make a gentle start by learning touch football. This means that they will also be able to participate in school holiday touch football activities.
American Football games require 2 teams with 11 players on the field where American Football players attempt to score points by moving the ball across the goal line or by kicking the ball between the upright goal posts. The offensive player's aim is to score points while defensive players primarily stop the offensive players from scoring through tackling of blocking the offensive players. Points can be scored by getting a touchdown which amounts to a total of 6 points. The team with the highest points at the end of the game wins. Just like in any sport, American Football rules are applied while playing the game. Some of the basic rules include:
When a team has possession of the ball or on offense, the object is to move the ball forward into the end zone, or to move the ball a minimum of ten yards in four attempts.
If the offense fails to move the football forward the required ten yards, they must turn the ball over to their opponent.
If the offense takes all four downs and fails to move the ball the required ten yards, the ball is turned over to the other team at that point on the field. That is, the defense now becomes the offense at the exact place where the offense has been stopped.
American Football is one of the most enjoyable kids activities in Australia. Children and toddlers as young as 18 months can play this sport because this is the stage where they are encouraged to learn the basics of listening and taking simple instructions from a coach. The most common misconception of this sport is that young kids need helmets and shoulder pads in order to play. But when it come to activities for kids, it is more suited to make them learn first the basic fundamentals of the game which are passing, catching, kicking and punting the football without getting too rough or physical. Make your children more comfortable with passing and catching a football even if it's only on your own backyard! In playing this sport, your kids can gain additional benefits:
Improved physical fitness,
developed social skills,
simple problem-solving techniques,
Developed coordination,
balance and full body control mechanisms,
Early development of eye and ball co-ordination.
Letting your children learn and play American Football can also further improve their:
leadership skills,
communication skills and
increase your children's discipline which can contribute greatly in their future.
Get Your Kids to Start American Football!
American Football or Gridiron activities for kids is a great investment for your kids' future if only they are immersed in healthy, fun activities. Get your kids to enrol in classes that are designed around different childrens age groups that can ensure to develop not only your kids' sporting abilities but also their group behaviour skills. There are plenty of American football clubs for kids to ensure your kids' advancement in the sport! While you're at it, American Football or Gridiron requires more equipment than any other sport. So here is a quick rundown of Gridiron Gear your children need:
American Football shirts with numbers in correspondence with their gridiron positions
Football
A helmet with a face mask
Pads on the chest, shoulders, ribs, and kidneys
Pants with pads to protect the groin area, thighs, and shins
turf shoes
american football gloves
It's also a great idea to get your kids involved in some other activities which will help them train and strengthen for American football, such as fitness squads and swimming. Make your kids play like a pro starting today! Check out our ActiveActivities directory for a list of American football lessons offered for kids in Australia.