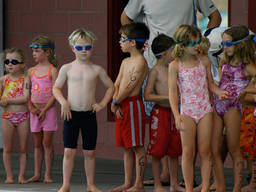 Get your kids on the way to ironman
Give your child the ultimate challenge and enter them into a triathlon!
Triathlons are competitive 3 sports events where athletes complete a challenging course which consists of a swim followed by a bike ride and finishing off with a run. Very popular in Australia for all ages, kids' triathlons can be a fun way for your children to challenge themselves and get fit!
A video of Triathlons for Kids
Many Australians are big sport lovers. Its no wonder they enjoy the challenge of triathlons. Our Melbourne bureau takes us to an event that gives juniors a taste of the triathlon experience. At Geelongs Eastern Beach today, it's cold and raining. But this does not deter the 1200 children who are braving the cold to compete in the 2009 WeetBix Kids TRY-athlon.
Information on Triathlons for Kids
Are triathlons for your kid(s)?
Do your kids have energy to spare? If they enjoy a challenge and love a bit of variation, they might enjoy participating in a triathlon for kids. Kids' triathlons have an emphasis on fun rather than trying to turn your child into the next iron man although for kids who have a natural talent and are prepared to undergo intense training, it is an Olympic sport!
Triathlons are unique in that they combine a series of different athletic competitions in to one event. Although the distances vary depending on the event, all triathlons include swimming, cycling and running. Also known as mini triathlons, triathlon type activities for kids might have a number of benefits for participants:
Introduce kids to sport and encourage an active lifestyle
Improves kids' fitness and agility
Encourages a number of skills including water confidence and cycling ability.
Can provide a great base of fitness and skill to pursue other athletic activities in the future
Lots of fun!
Is your child school age and keen to start? Most junior triathlons start at age 7. If your child is younger than that, they might enjoy a different athletic based activity for kids such as little athletics or swimming. Triathlons for kids are great because they allow children with strengths in different areas to compete on a more level playing field, so even if your child isn't the strongest swimmer, he or she can still have a chance to succeed by cycling or sprinting fast.
Get your kids to start triathlons!
Check out our ActiveActivities Directory for your local triathlons clubs!. Most clubs will have kids activities aimed at training for local events and there will probably be a team your children can join. Training in a team is lots of fun but it is a bit of a commitment as your children will need to participate regularly and be disciplined if they want to succeed.
Training camps are a great way to get your child started and often run during the school holidays for 3-5 days. Costs are around $180 for a programme and all gear, including a wetsuit is generally included. Who knows, maybe your child could be the next ironman or woman!