Outdoor Play Park For Kids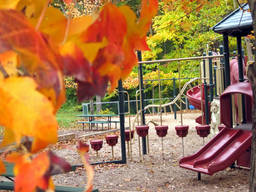 Fun for everyone!

An outdoor play park is a kids' play area containing specialised equipment such as swings, slides, climbing frames and miniature houses. The ground is usually covered with something soft like bark chips so kids can run around safely.
A video of Outdoor Play Park For Kids
Outdoor play parks are a great venue for spending afternoons and weekends with your kids during summer and early days of winter. They'll meet new friends, and burn the incredible energy they can have at that age!
information about Outdoor Play Park For Kids
Are outdoor play parks for your kid(s)?
Do your kids love playing outside, swinging from trees and playing hide and seek? They will probably enjoy spending time in an outdoor play park. There is usually seating around for parents to sit and chat and enjoy the fresh air while keeping an eye on the kids activities. Most Australian suburban areas have a play park although the type of equipment will vary from park to park.
Benefits of spending time at an outdoor play park include:
Plenty of fresh air and exercise. Remember to make sure your kids are protected from the summer sun and wear robust clothes they can run around in
Some play parks have small, shallow kids' pools suitable for paddling and playing with boats rather than swimming. Always supervise kids near water, no matter how shallow
Playing with other kids encourages social development and learning to share
Encourages you to spend time with the kids outdoors.
Outdoor play parks can be used by kids of all ages but smaller children may find the noise and energy of a busy outdoor play park a bit overwhelming. Also little kids under 5 may not be able to use the equipment on their own as it is usually sized for kids around 6 and upwards. You may need to stand by and help them gain confidence on the slide but once they learn how to use it they will probably want to slide again and again!
Get your kids to an outdoor play park!
Are your kids up for a bit of rough and tumble? Do they have excess energy to burn off like most Australian kids? An outdoor play park could be ideal! In addition, they are usually free and can be found in your local park, making them generally easy to reach. Why not combine a visit to an outdoor play park with a family barbecue?
Other outdoor play park ideas you might like to try include fun parks, water parks and adventure parks but these may have either an entry fee which can start at around $30 per child or you might just have to pay on a per-ride basis. Whatever your kids' favourite activities, you can find an outdoor play park that fits the bill! Check out our ActiveActivities Directory for a close outdoor play park!
Articles related to your search: