Amusement centres for kids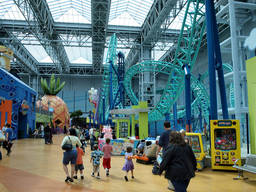 Do your kids need a break from schoolwork? Even if children get to enjoy and interact with their classmates in school, time with their family is also vital to emotionally give them a boost. Arranging activities for kids along with your family is not difficult if you know the options that amusement centres can provide. With these options, you can be assured that your children will always have a great time spending time with the family and you also get the benefit to get to know your children better and see them grow.
A video of Amusement centres for kids
Kids playing and having fun in an amusement centre.
Information on amusement centres for kids
Why is going to amusement centres a great activity for your kids?
There are many kinds of amusement centres all over Australia and these amusement centres also have various kinds of activities that you and your kids won't get tired of. There are play centres and playgrounds, arcades, indoor play areas for kids, and party venues. Safety depends on the age of your children. If they are toddlers, you might want to pick out a less risky activity for them. But if your children are adolescents, you can let them enjoy as long as they are within the height limit and age bracket that the activity is designed for. If you worry about the safety of your kids in an open space, you can bring them to indoor play centres. If you don't mind letting them explore their surroundings more, you can opt for outdoor play centres. In these amusement centres, they always provide different kinds of play equipment that your kids can play with. Whether it's a simple playground set such as a swing, slide, and seesaw, or a huge plastic balloon that allows your kids to be encapsulated in so they can run on water, these kids activities will surely give your child time of their lives. Spending time with your children will benefit them in many ways and also aid their development. Here is the list of benefits that your children will get from simply spending time with them:
Emotional Growth – your children will develop emotional stability by simply spending time with them. As long as they know that they have an established family that they can lean on, your children can lessen their fears and worries in life.
Social Skills – interaction with your children will improve their social skills not only within the family, but it will also be easier for them to interact with other children in schools and clubs.
Physical and Mental Health – depending on what activity your family has decided on, you will greatly aid in the development of their physical and mental health. If you decide to bring them to a playground, it will help in the development of their bones and muscles. Amusement centres such as arcades can develop their strategic thinking from simply playing a game of logic.
Depending on the venue, kids activities will vary in availability. If your children are easily scared, make sure that your chosen activities for kids will not be too physically demanding and startling. If your children are up for an adventure, you can let them try mini-bungee jumping and laser tag. Get your kids to enjoy amusement centres! Usually amusement centres such as theme parks, party venues, kids parks, playgrounds, and play centres are not heavy on the budget. They offer discounts and promos on weekends and will give higher discounts for tickets purchased as groups. Depending on their play equipment, their prices will vary. Check the ActiveActivities directory for the listings of kids venues and theme parks and have a great time with your children!
Articles related to your search: