Pre School Dance For Kids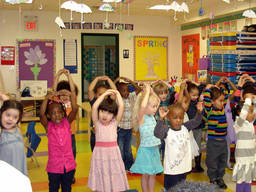 Get your kids to start preschool dance! Develop your kid's potential in dancing while they are young. Preschool is the right time to teach them the importance of getting active and staying fit.
Not everyone will grow up as great dancers but everyone should at least learn how to dance. There are dance lessons – sometimes included in Physical Education - in schools especially in preschool where kids are very active. Young kids learn easily especially when they participate in hands-on kids activities like creative dance games where they can have fun while learning. Encourage your kids to dance to the tune of the songs they love!
A video of Pre School Dance For Kids
Adorable little girls having fun at their first ballet class. Do you also see your daughter in leotards and a tutu while doing a pirouette? Having them attend ballet lessons will also help improve their posture.
information on Pre School Dance For Kids
Is preschool dance for your kid?
Attending kids activities like preschool dance classes will not only teach your kids how to dance; they can also learn so much more. It also contributes to their holistic development.
Physical Development
Dancing and other activities that require moving help kids to become more aware of their bodies. It also helps improve their physical fitness.
Motor Skills
Preschool dance classes teach young kids movements like jumping, running, hopping, and walking.
Coordination
Dancing requires coordination of the body parts as well as the body movements and the beat of the music. Having body coordination helps kids to improve their balance.
Discipline
Preschool kids have short attention span. Kids must learn to listen to their dance instructors. This aids in the overall discipline development leading up to the beginning of their school life.
Self-expression
Dancing, like other kinds of art, is a form of self-expression. It is a good way to communicate their feelings if they are too shy to say it verbally.
Socialisation
Some preschool dance activities are done in groups. This is a way of practising their socialisation skills and learning the value of teamwork and leadership at the same time.
Get your kids to start preschool dance!
Preschool dance schools and studios in Australia teach kids as young as two years old. The most popular type of dance that is taught to young kids is ballet dancing because it requires a lot of discipline. Boys may not find ballet as interesting as girls do; you can also enrol them in other dance lessons that will teach them basic movements like jazz and hip hop. Hip Hop is very popular with boys. Also encourage them to join kindergarten dance programs and competitions to improve their self-confidence. Who knows, they might love performing in front of everyone and might grow up to be professional dancers. You can browse our ActiveActivities Directory for more helpful tips and resources.
Get your kids to start moving and having fun! Enrol them in preschool dance classes!
Articles related to your search: