5 reasons your kids should take dance classes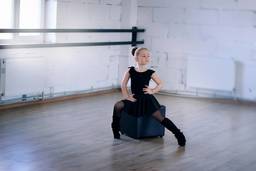 There are many benefits of participating in dance classes - dance is more than just learning routines.

The bond between a teacher and their student can be so rewarding it can last a lifetime.

For most students, what is learned in dance class goes beyond the dance studio and penetrates every area of their lives.

These are the top five benefits of taking a dance class:
1. Concentration
Dance class is generally a structured environment that when taught in an engaging way with set goals in mind, develops a student's focus and concentration. Many parents off feedback saying the classes have been calming for their high energy children; especially those with special needs.
2. Physical development
Dance is both an art form and a sport. It supports the development of physical strength, fitness, flexibility while sharpening reflexes and coordination. Development of fine and gross motor skills are also important to other developmental areas.
3. Language development
Often students are encouraged to ask questions about their learning and, as they learn ballet terminology which is traditionally spoken in French, students are encouraged to speak to use the language comfortably and gain confidence from the knowledge gained. Every child should have the opportunity to speak while other children are listening with respect. Children are able to speak and express themselves in a non-threatening environment, and treat others with respect which is a very important life skill.
4. Sense of Community
The ballet and dance communities are great for students and their families. Children excel in an environment of positive relationships, and generally they really enjoy going.It's important in these environments that everyone feels as though they are treated equally with respect and courtesy. Learning in a supportive community means that everyone has a place where they belong and no one is left behind, regardless of their skills or ability.
5. Confidence and self-esteem
Dance classes are often created to nurture each child's abilities through achievable goals. Children get to know their own limits and thrive from working outside their comfort zone. The goals we set in our classes support children to build self-esteem and confidence as well as the knowledge they gain along the way. By presenting the classes in an engaging way, the children receive the lessons better because they're not dull and boring and they start to really love the learning process and want to improve each week.
Articles related to your search: