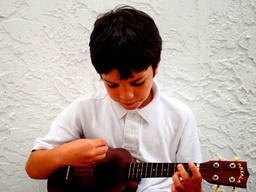 The ukulele first became popular in Honolulu, Hawaii, when Portuguese immigrant Joao Fernandes introduced the instrument to locals in 1879. Hawaiians gave the instrument its modern name, ukulele, which literally means jumping flea in English. The ukulele was brought to Australia soon after and has become a popular instrument for kids over the years. Get your kids to start playing this tiny and quirky instrument!
Category:Performing Arts
Approximate age to start playing the ukulele: 1
Approximate price: $50
Gear/equipment needed and approximate price range: Ukulele ($50-$150), sheet music, ukulele tabs
This activity comprises of: Performing, tuning, listening
Best period of the year: Year-Round
School holiday programs available: YES
A video of Ukulele for kids
This talented little ukulele player will inspire your kids!
Information on ukulele for kids in Sydney
Is playing the ukulele right for your kids?
If you're looking to nurture your kids' musical talents at an early age, consider introducing them to the ukulele for kids in Sydney. Due to its small and lightweight body, the ukulele is easy for kids to handle. Because of its small size, it is highly portable, so if your kids are constantly on the go they will have no trouble bringing their instrument along with them.
The ukulele belongs to the string family of instruments, meaning players need to strum or pluck strings in order to produce sound. Most ukulele strings are made of nylon, which is gentle on a child's soft fingers.
There are various kids activities in Australia that will help your children learn more about the ukulele, such as the Melbourne Ukulele Festival, the Blue Mountains Ukulele Festival, and the Cairns Ukulele Festival. Taking your kids to events like these may inspire them to be patient and work hard at improving their skills.
Some reasons to get your kids playing the ukulele:
It's easy to learn: ukulele chords are simple, allowing your kids to play their favourite songs early on. Beginners can start playing ukulele songs with only two chords and two fingers.
There are plenty of resources available: free ukulele sheet music is available online. Purchasing sheet music is also advisable to improve accuracy. Tabs for the ukulele are easy to read and can also be viewed online. With these resources, you'll be hearing ukulele music from kids in no time.
It's budget-friendly: playing the ukulele is one of the more affordable activities for kids. A good quality uke can be bought for around $50, and strings aren't expensive either. Strings for the instrument a durable and last a long time, saving you maintenance costs.
Get your kids to start playing the ukulele!
Toddlers age one and over can begin ukulele lessons. Because kids can begin playing the instrument at a young age, they will be able to develop their perception of pitch and rhythm early on, making them more skilful musicians in the long run. As your child gets older, they might like to consider other options, such as guitar for kids or banjo for kids.
The first step when starting the ukulele is choosing which instrument to buy. There are four standard types of ukulele: soprano, concert, tenor, and baritone. Most beginners start with the soprano variety since it is the most traditional type and also the smallest.
Ukuleles come in a variety of designs, but it pays to check if the sound quality of the instrument is good. Check which type of wood was used for the ukulele's body, since different types offer different tonal characteristics. Read plenty of reviews online and try as many ukuleles for kids as possible in order to find your kids' perfect fit.
There are many ukulele classes and lessons for kids in Sydney available. Choose an instructor who can accommodate your child's schedule and comes recommended as an effective and patient teacher for kids. Some instructors can provide certifications for their skills. In Australia, lessons may range from $30 to $50 per session. Check the ActiveActivities directory to find an instructor near you.