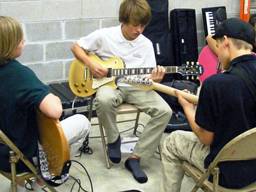 Unleash your child's inner Jimi Hendrix! Many scientific research have highlighted the benefits of learning a musical instrument from a young age, listing creativity, discipline and patience as areas that will stay with a child through to adulthood.
Category: Music
Approximate age to start the guitar: 5-7 years old
Approximate price lesson:$50
Gear/equipment needed and approximate price range:Guitar as from $100 for beginners School holiday programs available: YES
A video of Guitar schools for kids
Students of a guitar school in Wollongong, Australia show their skills during a live band performance.
Information on Guitar schools for kids
Are guitar schools for your kid(s)?
Do you often find your child putting on his/her best rock star persona with a guitar at home, singing along to their favourite tunes? Or do you find them spending endless hours each day after school playing Guitar Hero on their PlayStation? Then your child will benefit from taking music lessons from a professional guitar teacher, where they'll learn how to tune, read, and perhaps one day even compose their own music!
Unlike traditional stringed instruments such as the violin, most music schools that offer guitar lessons tend to focus on popular and contemporary music that are more in line with young kids' interests so they are more likely to have fun and enjoy themselves while learning.
Guitar lessons can be taken in the form of private one-one-one music tuition or group lesson at local music schools or specialised guitar schools for kids across Australia. When choosing the right music school for your child, it is important to take into consideration the personality of your child and the teaching style and method of the school.
If your child is shy and quiet by nature or is passionate and ambitious to pursue music, consider one-one-one private music lesson, which offer:
a more one-on-one, intimate learning environment
more comprehensive learning structure that covers everything that your child would need to know to reach more advanced level of playing: from reading guitar tabs, fingerpicking to improvising guitar chords
opportunity to build a meaningful, on-going rapport with the teacher that in return helps your child to develop a meaningful relationship with music from a young age.
If your child is out-going and has shown a natural love for performing for others, then group guitar lesson is the way to go. Group guitar lessons offer:
a great opportunity to make new friends. A good starting point for your child to form a rock band of their own later down the track!
more fun and less pressure learning environment that often involve music games and activities for kids
less structured lesson plans that are great for younger kids. Younger kids will find the lessons less overwhelming and challenging and therefore increase their chance to stick with the guitar and not give up half way.
Get your kids to start learning those guitar chords!
Now that you've decided guitar schools for kids (either private or group lesson) is the way to go, start doing your research on schools that match your child's interest and your personal requirement. Many local music schools offer guitar lessons, take a look at our ActiveActivites Directory to find the closest in your area. In selecting the best music school for your child, consider:
Getting referrals from friends who have children currently learning guitar. Ask for recommendations from your child's music teacher in school
Arrange an in-person visit to the music school you wish to enrol your child in and if possible, meet with the teacher that will conduct the lesson. Prepare a list of questions to find out their musical style, credentials and teaching philosophies. If possible, requests to observe a lesson to get an idea what it'll be like for your child to learn from the teacher.
Attend one of the music school's public performance
Although your child is likely to learn the guitar with the outlook to form their own band one day or simply to play their favourite rock, blues or Jazz tunes; for those that are more ambitious, some music schools also offer private tuition that prepares them for the CPM guitar syllabus with the Australian Music Examinations Board .
Choosing the right music school is just as important as selecting a doctor or dentist for your child, so make sure you do enough research to make an informed decision and unleash your child's inner Jimi Hendrix!