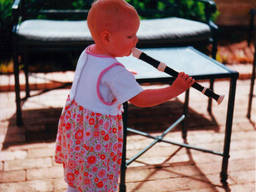 Flute is a great instrument for your kids to start music.
Enjoy the benefits of this enchanting wind instrument!
The flute is a woodwind instrument, known for its haunting tone. Popular in many different styles of music, the flute is a versatile and easy to learn instrument that the whole family will enjoy listening to!
A video of Flute for Kids
A kid playing the flute in a jazz style. Look how easy it is for him! Your kids will have a lot of fun playing this instrument.
Information on Flute for Kids
Is the flute for your kid(s)?
Are you looking for a musical instrument for your kids that won't sound like a strangled cat? If your kids are interested in music and keen to play an instrument, the flute could be a good way to go.
It's fairly easy to learn and has lots of advantages including:
Very popular so your child should have lots of opportunities to play with other children and make new friends
A good way to start learning music as it's fairly simple and straightforward to play
The flute is played in a variety of different music styles so whatever music your child likes, they will probably be able to play it on the flute
There are a number of different types of flute including the wooden flute, alto flute, bass flute, bamboo flute, pearl flute and pan flutes so your child will never get bored!
Playing wind instruments can help improve kids' lung capacity and may even help kids who have respiratory problems such as bronchitis
Is a full sized flute too big for your preschooler?
Kids can start flute lessons from age 3 on a special child sized flute and progress to a full sized instrument. Renting an instrument is a good ideat when your child is starting out to save wasting money if they do not enjoy this kids activity. Renting an instrument will also give your child a feel for a particular model of flute and give him or her more of an idea what would be best. If your children aren't interested in the flute, they might enjoy other blowing instruments such as the clarinet or the piccolo.
Get your kids to start flute at the next School Holidays!
Finding a flute teacher for your child doesn't have to be a headache. Check our ActiveActivities Directory. For local flute lessons. Music tuition generally costs around $60 an hour and good music teachers often get booked up quickly so get in as early as possible!
Is your child interested in getting involved in musical kids activities like joining a band or doing music workshops? Check out our ActiveActivities Events section to see what is happening in your area or ask your child's music teacher. Many music schools run school holiday programmes and music camps for kids which might be a great way for your child to make friends and participate in a number of musical activities for kids. Whatever your child's musical interest, the flute is a great starting point!