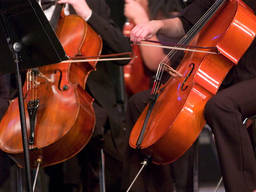 Cellos in an orchestra
Kids can start learning musical instruments from a very young age, and they gain lots of benefits from doing so. The cello is a popular choice which might even become a career one day for your children. It is part of the viol family, which includes the violin, viola, and bass violin.
Category: Performing Arts
Approximate age to start : 10 years and up due to large size of instrument
Approximate price: Up to $400 for a brand new cello, around $70 for an hour lesson in Sydney
Areas available: All over Sydney
School holiday programs available: Yes
A video of Cello for kids in Sydney
Check out this amazing video of a little girl playing cello!
Information on cello in Sydney
Would your kids like to play cello?
Sydney is home to the Sydney Symphony Orchestra, and the Sydney Opera House - so it couldn't be a more inspiring city for your kids to take up cello, which of course is a vital component of both classical and modern music.
Learning music is one of those great kids activities which have lots of options within itself. To name just a few, you can send your kids not just to cello lessons in Sydney, but also guitar lessons, fiddle lessons, violin lessons and many more. Music schools in Sydney can help you and your child decide which instrument will suit them best.
Why is playing cello a great kid's activity?
Your child will benefit in many ways if they choose to take up cello activities for kids in Sydney. Some of these include:
Regular practice encourages structure and time management
Improved concentration and brain stimulation
Music is often a therapeutic pastime
improved hand and eye co-ordination
Listening skills can improve
Learning the cello is one of those activities for kids which can provide hours of fun for your children, plus improve lots of subtle aspects of their heath, both physically and mentally!
Information on cello
A full size cello is over a metre high, so obviously this is not appropriate for very young children. However, smaller size cellos do exist, so if you have a youngster who is very keen to start playing it may be worth investing in what is referred to as a 1/8 size cello (a little over half the length of a full size instrument.)
Cellos for sale in Sydney can be expensive if they are brand new. Don't forget to look online to see if you can get a bargain though! Rentals may also be a good option for a beginner too.
Music lessons in Sydney, which of course include cello, are also offered in many suburbs. Cello teachers for kids in Sydney are available both privately and as part of larger music associations.
What will your kids need to get started playing the cello?
Apart from the cello itself, there are a few other accessories your child will need:
bow
cello case
strap
endpin - to stop the strap sliding off
wolf tone eliminator - placed between the tailpiece and the bridge to reduce unwanted noise
mute - used to reduce unwanted overtones' from the instrument
You may also want to purchase a metronome for your kids to help them get used to playing to the correct beat. Music stores in Sydney will be able to help you secure all of these accessories and more.
Musical instruments in Sydney and all their accompanying accessories are easy to find - check the ActiveActivities directory for a listing of locations where they are available to rent or buy!