Bass guitar for kids in Perth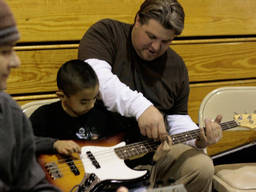 When children are younger, they can develop their memory, coordination, mathematical ability and listening skills by learning how to play a musical instrument. The difference between a regular guitar and a bass guitar is that a bass guitar is longer, heavier in weight and only has four strings compared to a regular guitar. If you're worried for your child handling a big instrument, there is a mini bass guitar and a small bass guitar that they can use in learning beginner bass guitar lessons.
Not to be mistaken for a string bass, bass guitars usually accompany the drums in a band and it produces a frequency which is lower by an octave compared to a regular guitar. Playing bass guitar in Perth is not a challenge as there are many venues offering bass guitar lessons that your children can attend. Enrol your children to music schools in Perth and introduce music into their lives!
Category: Performing Arts
Approximate age to start playing bass guitar: 7
Approximate price: $450
Gear/equipment needed and approximate price range: Bass guitar ($125)
This activity comprises of: Band camps, band competitions, lessons
Best period of the year: Any time
School holiday programs available: YES
A video of Bass guitar for kids in Perth
Young boy showing his bass guitar skills
Information on Bass guitar in Perth
Is bass guitar for your kids?
Will your child enjoy playing a bass guitar in Perth? Learning a musical instrument is not new for children as they respond well to music. One of the most common past times of children would be playing the guitar. In music schools in Perth, they teach basic bass guitar lessons including how to play, read and distinguish bass tabs, bass guitar scales, bass guitar chords, bass guitar chord charts, and bass guitar sheet music.
Since your children may have difficulty in handling a regular size bass guitar, there are half size bass guitars, kids junior electric bass guitars which are also known as a bass and kids bass guitars that they can easily handle for comfort. As they move forward they can also use a student guitar to practice their bass guitar chords and bass guitar sheet music.
If you think your child will not enjoy bass guitar lessons but they still want to play an instrument, they can opt for the regular folk and traditional instrument, acoustic guitar lessons or electric guitar lessons. They can still learn to play guitar but they will be taught a different set of guitar lessons in Perth that are more suited for acoustic or electric guitars. Age-wise, toddlers may not be advised to learn to play bass as they are still too young to effectively learn bass guitar scales and understand bass guitar sheet music.
Learning an instrument also depends if your child can responsibly handle their musical equipment. In the long run, if your child is not interested in music, there are other kids activities that they can try out such as sports and arts.
Get your kids to start bass guitar!
In order for your children to start playing bass guitar, your child needs the right musical instrument for his age. Since children may have difficulty in handling a regular size bass guitar, we suggest you find a small bass guitar that is considered to be kids bass guitars.
If you are looking for a smaller bass guitar for your child it should be a half size bass guitar, a bass guitar, beginners bass guitar, or a kids junior electric bass. These can be purchased at selected music shops in Australia or at Perth guitar stores. Amplifiers may be needed along with your bass guitar purchase if you buy your child a kids junior electric bass. An electric variety of this bass guitar needs amplifiers and effects to boost the performance and sound of an electric bass guitar. Bass guitar lessons are not that hard to come across.
If you prefer a social environment for your children to learn how to play bass, you can enrol them into a band camp in Perth. At the end of these band camps, there will be band competitions that will assess the level of performance your children have learned. If you are looking for a band camp in Perth where you can enrol your child for bass guitar lessons, check out or ActiveActivities directory for a good list of references!