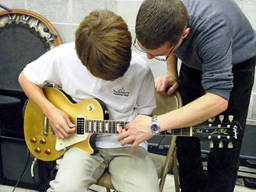 Being taught by a professional is a good way to improve the pace of your development. Kids who wish to study under music teachers can enrol in music schools or they can also hire a teacher who can teach music at home. The Schola Cantorum, established in the Middle Ages, was the first recorded music school in history. Most formal music schools teach classical music, while music teachers who teach one-on-one are more flexible with the genres that they teach. Pick a teacher now and nurture your kids talents!
Category: Performing Arts, musical instruments
Approximate age to start Music Teachers for Kids: 5
Approximate price: $280/10 sessions
Gear/equipment needed and approximate price range: Instruments, Music Sheets ($10-$50)
This activity comprises of: playing music, composing songs
Best period of the year: Year-Round
Most appropriate region: No Preference
School holiday programs available: YES
A video of Music teachers for kids
Music teachers use different ways to keep their students engaged. They conduct interactive musical activities, play fun games, and even use toys!
Information on Music Teachers for kids
Should You Hire Music Teachers For Your Kid(s)?
Playing musical instruments make great Kids activities because it enhances their creativity, it helps them gain focus, it provides ways for them to express themselves and it also increases their popularity. Teaching children to play through music lessons and classes can help them learn faster and easier.
Some benefits include:
Provide Instruction
Music teachers can provide different activities for kids to help them improve their techniques like fingering exercises and ear training programs.
Get Help Learning Music Theory
Believe it or not, learning how to play music isn't just about learning the notes to a song. It's also about learning why those notes sound nice together. Music theory provides answers for these, and it's best to learn it under qualified teachers who can explain some theories your children might find hard to grasp.
Improve Discipline
Having an adult assess their performance will help kids be more inclined to practise.
Piano lessons are suitable for children who have no one to play with at home. That's because piano works well as a solo instrument. Musical Instruments that are better suited with accompaniments like the guitar and drums are better for families with more children so that they can play together.
Get Your Kids to Learn under Music Teachers!
It's best to enrol kids under music teachers as early as 5 years old so that they develop good playing habits early.
Start by letting your kids play songs for children because they're easier to play. Children will also have a better chance of being motivated if the songs they play are suitable for their age. Popular children's music in Australia include ?I Am Australian," ?The Kookaburra Song" and ?Waltzing Matilda."
There are many tablatures and music sheets available on the internet, but buying your own music sheet is better to ensure accuracy. Many free music sheets online are actually unreliable.
Music teachers for kids can provide home services or you can enrol your kids in music schools. Music lessons usually costs around $55 per hour. Try to look for music teachers who have notable credentials. Some teachers can show certifications for their skills, so do your research before hiring one.
Some well-known music school that offers guitar lessons for $280 for ten sessions. They also have a program for toddlers 1.5-4 years old. Check out the ActiveActivities Directory for more information on music teachers.
Get your kids to play better by finding them a music teacher today!
Articles related to your search: