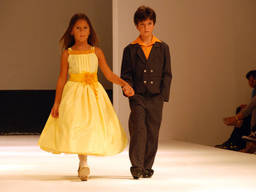 Your children might be the next to walk this ramp!
Most kids love being the centre of attention. With so much energy and a wild imagination, it is important that parents acknowledge and appreciate their talent in their favourite activities for kids like performing, playing dress up, and role playing. Do your kids love playing these activities? Do they love posing for the camera, or perhaps watching themselves on home videos? Then might be interested to get into modelling!
Category: Performing arts
Approximate age to start modelling: Depends on the parents (there are model babies and toddlers), but best age is to start is around 10 years old.
Approximate price: Modelling agencies are FREE
This activity comprises of: Learning proper posture when standing and walking, personality development
Best period of the year: After school and school holidays
School holiday programs available: YES
A video of Modelling for kids
Here are some tips on how to find the right modelling agency for your kids.
Information on modelling for kids
Is modelling great for your kids?
Every parent wants their toddlers to grow up as poised and confident children. Studies prove that public speaking is one of the most feared activities of most people, including kids. They have no problem being their bubbly selves in front of their family and friends; but when it comes to being in front of strangers, kids tend to curl back into their shells. Getting them into child modelling can help your children face their fears.
We will let you in on the benefits of modelling for kids that you might not be aware of.
Personal appearance
It is important that kids learn the importance of good personal appearance and hygiene. One way of understanding it is when they dress up for an audition. For the model agencies to notice them, they should dress appropriately. And don't forget to smile! Having an open and positive appearance is also important in other social situations.
Good work ethics
Through modelling, children can learn to be responsible at a young age. Considered as a job, modelling can teach them to be punctual and hard working.
Budgeting skills
Most parents would prefer to take care of their children's earnings, afraid that the kids might spend it on unnecessary thing. Once in a while you can let them buy what they want with their own money, but this is also a perfect time to teach them to spend wisely.
Confidence and poise
Going to auditions can help your little models adjust to certain situations and interact with other people. Modelling classes teach them important values and concepts. When kids learn how to be a model, they also learn proper posture, walking properly, and smiling brightly, all of which will help them become more poised and be more confident and comfortable in their own skin.
Discipline
Talent agencies for children also look for kids who know how to follow directions. When they become models, they need to know how to listen carefully to photographers and directors, and to work with others- with their fellow models and with other staff.
Ability to accept rejection
Children need to understand that they wouldn't be always successful in everything that they pursue. Modelling agents have different standards when looking for potential models. When they get rejected, congratulate them for their efforts and encourage them to not lose hope and try harder next time.
Health benefits
Models need to be fit and healthy. Modelling classes have courses on proper nutrition and exercise. Healthy kids are happy kids.
What is the best age to start modelling? Some talent agencies for children look for babies and toddlers to feature on advertisements like diaper ads, milk ads, and kids' apparel. No matter how young your children are when getting into modelling, it is important that you are both ready to take on that world. You can look for model agencies and credible agents around Australia in our ActiveActivities Directory. These agencies incorporate fun kids activities to their workshops and trainings so the kids can enjoy while learning. Aside from auditioning at agencies, other ways your kids can get discovered are by joining beauty contests, entering photo competitions, and joining small-scale fashion shows.
Modelling is a fun and rewarding way to channel your kids' energy and creativity. Encourage them to unleash their modelling potential!