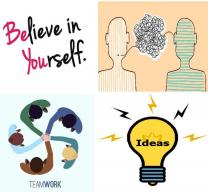 My First Drama Class. I remember walking in, knowing no one, all new faces including the teacher. I was nervous, anxious, what would we be doing? What if I wasn't good at it, who are these people that I would be with? In a drama class there are so many different things we will experience, and each has different benefits depending on the person. But what are the real benefits?
There are key social skills that are developed in Drama, like sport, it requires team work and collaboration, they will all get their moment to shine but knowing that the only way to complete the activity is working together, they are driven to succeed, breaking boundaries instantly.
Communication skills are developed, this we need at any age, and reminders of through life, to listen and learn from others as well as thinking about the best way to express our ideas, in a drama class we often have to play both parts, the performer and the audience, and that way we learn how to be receptive in conversation, be patient and focus.
Active expression, as adults we all know that stress can lead to feeling like we might want to burst, we know it's proven that movement is key to providing an outlet for built up energy, its great to keep active, through free dance or exploring our voice with song, or creating a character and being in a safe environment where it's ok to maybe shout or be silly, it's therapeutic to let it all out.
Creative exploration of different topics in drama allows us to use our thinking in a different way, to learn narrative and story telling is a great skill in life and topics that may seem boring in certain formats are suddenly fun and creative.
Fun and making friends is always fabulous, I know one of my best friends was made in my drama class, sharing an immersive experience with someone and being part of creating and performance, is a special moment, one that we rarely forget!
Think of all the learning they do as they grow, and which memories are the strongest and why…
This social interaction builds our confidence, it is our peers and a safe space, that often gives us the belief and drive that we can do something, and when everyone else is having fun doing it, we want to join in!
Through this we find our voice – not only literally, but we recognise how we are different to others and what part we play the best, what we are good at, what we are comfortable with, and what other people take enjoyment in watching us.
I think performance is key to demonstrating our development, however it is not the whole emphasis, it's merely the product of or creative play.
It is an end goal and an achievement, and overcoming the fear of sharing that creativity and expressing all the amazing skills we have explored.
A chance to be Confident, Be Creative, Collaborate and Communicate well and the more we do it, the better we will get, these I believe are all great life skills and as we live in such an fast paced changing industry, although it is great to be the expert in your field, we know that these enterprise skills that you can perfect, will see you perform well in any education environment or job!
For me Drama has not been about the fame and glory, more about the creative expression and I love to share that with others – of any age!
Articles related to your search: