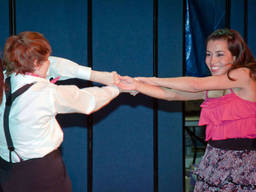 Salsa is a dance form that is a fusion of Cuban Son and Afro-Cuban dance. The dance is associated with salsa music, but it can also be danced along with other types of Latin-American music. Salsa is normally a partner dance, making it a popular social dance in many countries including Australia. Are your children into dancing? Then you can let them try salsa dance for kids!
Category: Performing Arts, dancing
Approximate age to start salsa: 2 years old
Approximate price: $15 to $100
Gear/equipment needed and approximate price range: ballroom dance outfit (around $35), salsa shoes (around $30)
Best period of the year: Anytime
School holiday programs available: YES
A video of salsa dance for kids
Salsa dancing enables the dancers to have a very flexible body as well to have body coordination. Look how flexible and precise these kids' moves are!
Information on Salsa dance for kids
Is salsa dance a great activity for your kids?
Dancing is one of those activities for kids that allow them to stay fit and healthy while having fun. Dancing is a great form of exercise. Ballroom dancing for kids is a type of partner dance and social dancing. Salsa for kids is a type of ballroom dance. It is a dance of leading and following, and just like any other form of art, it also serves as a great means of self-expression. Kids these days lack physical activity. With salsa dance for kids, they will get to have their much needed exercise while enjoying fun kids activities and making new friends.
Salsa dance for kids is taught at a dance academy or at a dance school for kids. Besides learning the salsa basic dance steps that are danced to the tune of salsa music, the toddlers will also learn about the Spanish culture like some customs and the Spanish language. Dance lessons including salsa dance for kids also give some benefits that will be useful to their everyday lives.
Socialisation skills
Salsa dance classes are a safe environment where kids can learn, play and make new friends. Environments like this can help kids be more comfortable in social situations.
Exercise benefits
Dancing is a great way to get kids to be active. Salsa helps kids move their muscles and joints; and it also helps build good mind and muscle coordination.
Personality development
Salsa also benefits the children emotionally. It is a good stress reliever that takes away anger and depression. It also helps develop self-confidence as well as confidence with the opposite sex as salsa is a partner dance. Salsa dancing also requires discipline that kids can apply to the work environment when they are older.
Respect for diversity
Salsa, which originated from another country, can make kids learn the diversity of cultures of different countries. They will learn to appreciate and respect them
Another form of dance that you can let your kids learn that also gives the similar benefits, including cultural diversity, is the Middle Eastern belly dancing for kids. You can find in our ActiveActivities Directory all the dance schools in Australia that teaches belly dancing and salsa dance for kids. There are also available salsa teachers that you can hire to teach your kids at home.
With proper lessons, training, and guidance, dancing can help in their emotional, social, cognitive, and physical development. Salsa dance for kids is a good choice!