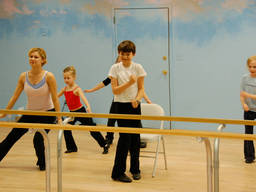 Jazz dancing was originated by the African Americans but it was, and still is, enjoyed by people all around the world, including Australia. It focuses on skills in isolation, syncopation, strength, and rhythm. Jazz dancing in Australia was made popular during the 1950s. Jazz dancing for kids is also becoming popular these days. Do your children show eagerness to become a good dancer? Then why not let them try jazz dancing?
Category: Performing arts
Approximate age to start jazz dancing: 5 years old
Approximate price: $75-$125 per term
Gear/equipment needed and approximate price range: leotard (around $35-$50), jazz shoes (around $65-$95)
Best period of the year: After school and school holidays
School holiday programs available: YES
A video of Jazz dancing for kids
Here are some easy dance steps your kids can learn when they enrol to jazz dancing classes.
Information on Jazz dancing for kids
Is jazz dancing a great activity for your kids?
Jazz dancing is a type of dance that is shared by a wide range of dance styles. It is a contemporary version of ballet. Ballet techniques are also applied in jazz dancing, the only difference is that in jazz dancing, you can mix it with other types of dance and use contemporary music. Popular jazz dance steps include the jazz hands kicks, leaps, sideways shuffling, rolled shoulders, and turned knees.
Do your kids dream of being professional dancers? Becoming a great dancer requires hard work, practise, and dedication. It is recommended that they start while they are still toddlers for them to develop these important values early. Other than learning all these values, getting your kids into dance classes is a great way to keep your kids active and fit even after school. There are also many other important benefits your children can gain from jazz dancing for kids.
Coordination and balance
Jazz dancing requires a lot of coordination and balance, as well as strength and agility. It is recommended that your kids learn ballet first as it will help them develop basic skills and movements required by jazz. Find ballet schools in the ActiveActivities Directory.
Flexibility
Healthy and fit children are those who have flexibility. The skill enables them to do vigorous activities for kids such as stretching. Dancing requires a great amount of flexibility. Jazz dancing can help your kids develop this skill.
Appreciation of music and dance
Jazz dancing is also a great way to introduce your kids to jazz music. Being cultured in music and dance can be beneficial to other areas of learning like reading, language, and physical education.
Alternative for non-sporty kids
If your kids are not into sports, jazz dancing is a good alternative as it also teaches almost the same movements and skills.
Socialisation skills
School dance lessons are fun and a great way to meet new friends. There are many kids activities that require the students to interact with one another and be part of a group. Group activities foster cooperation, communication, and trust. Social interaction also helps boost confidence.
Creativity and imagination
Dancing is a form of self-expression. Jazz dancing triggers a child's imagination and nurtures their creativity as it uses some techniques from other forms of dance, allowing room for improvisation. Jazz dancing for kids help kids learn about time, space, and rhythm.
Exercise
Strenuous physical activities like jazz dancing are also great form of exercise.
Jazz dancing can be quite challenging. It is important that they learn this dance in a safe, fun, and supportive environment so they would not feel pressured. The ActiveActivities Directory provides a detailed list of available jazz dancing classes and lessons in Australia as well as other dancing lessons that your kids might be interested in. Another interesting dancing style your toddlers can learn is salsa dancing. Do they prefer modern dance for kids? Maybe you can enrol them to hip hop classes.
Dance costumes that jazz dancers wear are tights and leotards. Some also wear jazz pants, a special kind of sweat pants. Generally, just make your kids wear comfortable clothing that will allow them to move freely. Jazz dancers are also required to wear a special type of dance shoes called jazz shoes. They are like ballet slippers, but with small heels. Know where to find the right clothing and shoes for your kids from our ActiveActivities Directory.
Jazz dancing nurtures the body and focuses the mind. It also welcomes children of all ages, sizes, and genders. Your kids will definitely love jazz dancing. Let them try it!
Tweet