Contemporary dance for kids in Adelaide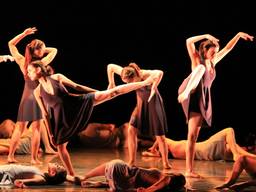 It is natural for kids to be fond of moving around a lot, that's why parents opt to enrol their children in dance classes so they can channel their energy in appropriate activities for kids, and develop the much needed skills. If your kids have trained in ballet, or are interested in ballet, as well as in modern dance, then they will enjoy contemporary dance, which is popular in Australia and around the world, made famous by the hit TV show "So You Think You Can Dance." But since the 1970s, there have been over 25 Australian contemporary dance companies; three of the most popular ones are located in Adelaide. If you live in Adelaide and the surrounding areas, there are many classes and schools that teach contemporary dance for kids in Adelaide where your toddlers can learn modern dance techniques combined with improvisation, while learning the importance of core strength to enhance their performance. Try learning contemporary dance in Adelaide!
Category: Performing Arts
Approximate age to start contemporary dance: 3 years old
Approximate price: $15/hour, $100-$140/term
Gear/equipment needed and approximate price range: Leotard - $20-$40, ballet dress - $30
Best period of the year: Year-round
School holiday programs available: YES
A video of Contemporary dance for kids in Adelaide
Contemporary dance students performing to one of today's popular songs.
Information on Contemporary dance for kids in Adelaide
Why is Adelaide a great place for your kids to learn contemporary dance?
Arts and entertainment is a big thing in Adelaide. There are lots of events in the region that celebrates music and arts, including the Adelaide Festival, where people showcase their talents, including contemporary dance.
Kids activities like contemporary dance allow children to express themselves artistically. Contemporary dance is a style of expressive dance that combines elements of modern dancing, jazz dancing, lyrical dancing, and classic ballet. Contemporary dance can be performed to many different styles of music.
Introducing your kids to contemporary dance can help them develop good posture, fitness, flexibility, coordination, and discipline. Contemporary dance classes and dance schools in Adelaide offer group lesson where your children can have the opportunity to step out of their comfort zone interact with other kids and perform in front of an audience.
Get your kids to experience contemporary dance in Adelaide!
Contemporary dance requires great physical strength. It is recommended that your children have a background in classical ballet to prepare for contemporary dance, but most students enrol even without any background in dancing. Contemporary dance uses the body's natural lines and energy to create new movements which have a greater range and fluidity than conventional dance. Learning contemporary dance allows your kids to be more flexible and adaptable to many other kinds of dance including ballet, jazz, and interpretative dance.
Contemporary dance is also an unrivalled way for your kids to learn dance in a mentally nurturing environment where they can explore movement and learn dance techniques and fundamentals. Contemporary dance is less constrained by traditional technique so children can unleash their creativity.
Dance techniques and movement philosophies employed in contemporary dance include:
Contemporary ballet
Alexander technique
Bartenieff fundamentals
Contact improvisation
Dance improvisation
Franlin-Methode
Hawkins technique
Horton technique
Jose Limon technique
Humphrey-Weidman technique
Graham technique
Cunningham technique
Corporeal mime
Pilates
Release technique
Yoga
Sullivan technique
Contemporary dance classes are usually offered in dance schools, performing arts schools, and dance studios. Visit our ActiveActivities directory for a comprehensive list of Adelaide dance halls, dance summer schools, and other places where your kids can learn contemporary dance in Adelaide. Our directory also has available dance teachers in Adelaide.
Toddlers as young as three years old can be enrolled in contemporary dance classes. To get started, it is recommended to wear the appropriate dance outfit that can be bought in dance stores. Contemporary dance outfit include ballet dresses, lyrical dresses, leotards, and comfortable shirts and sweatpants.
Get your little ones to develop movement and posture at a young age through contemporary dance!
Articles related to your search: