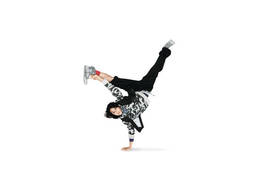 You know what's in with kids today? Breakdance!

Breakdance is a form of modern dance that accompanies most genres of music with prolonged musical breaks, like hip hop music. It is a popular style of street dance that consists of acrobatic moves and complex foot work. It has four elements – toprock, downrock, power moves, and freezes. Dancers who practise this style are called b-boys and b-girls. One popular Australian b-boy is Wade Robson; he was the host and creator of MTV's The Wade Robson Project. He was also a judge in So You Think You Can Dance.
A video of Breakdance For Kids
information on Breakdance For Kids
Is Breakdance a good activity for your kids?
The origin of breakdance comes from African Americans and Latinos of New York City. Breakdance and the hip hop culture in Australia began in the early 1980's.
It is popular among teenagers and also kids. People who are into this culture wear jerseys or baggy clothes and rubber shoes. Hip hop music is known for the chanted rhyming lyrics, also called rap. In rap music videos, you will always see people dancing at a party or always having breakdancing battles. Breakdancing movies are also popular nowadays like Step Up and You Got Served. If your kids like hip hop and dancing, they might be interested in breakdance. Kids always like to be in the know about the latest trends. Learning breakdance will definitely make them one of the coolest kids around.
What are the benefits your kids will get from learning how to breakdance?
Physical Fitness
Like any form of dancing, breakdance can be a workout especially for the joints. Just make sure they do stretching exercises first.
Discipline
Learning any form of art requires focus and self-control. Attending breakdance classes will help develop discipline in your kids in order to master the art.
Social
Breakdance can be practised solo or in group. Let your kids join a dance group to develop leadership and to learn how to interact with different people.
Communication
Kids sometimes have a hard time of expressing themselves verbally. Dancing is a good outlet for expression. Breakdancing battles are also perfect alternatives for sorting things out in a friendly way whenever there's an argument between groups.
Confidence
Developing or improving a skill or talent will bring out confidence in your kids.
Breakdance can be very interesting for everyone, but it would be more suitable for older kids. The dance moves are not easy to learn so it requires patience and also a strong physique. Kids activities like this are also more popular in teen age group because adolescence is the stage where kids worry about fitting in. This kind of dance is more popular among boys as it involves aggressive moves like popping and locking. Girls are more graceful dancers but many dance groups have already showed that girls can also be really good at breakdance.

Attending breakdance classes and competitions can be included in your list of activities for kids that can be enjoyed during the school holidays. Check out our ActiveActivities Directory for Breakdance schools and lessons. Let them learn how to breakdance to unleash their potential. Who knows, they might be the next Wade Robson!
Articles related to your search: