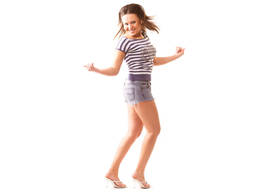 From the earliest times, dance featured strongly in Australian culture, with the European settlers bringing their own forms of dance , and a huge variety of styles has been added from various sources over the years.
A video of Dancing for Kids
Tabitha Lupien who played Becky in the movie Hairspray shows the girls a cool dance step to "Nicest Kids in Town" from the Hairspray movie. She was a dancer in the Courtney Collins Council.
Information on Dancing for Kids in Australia
Is Dance for Your Kids?
Some kids seem born to dance, others not, but it is accessible to anyone and is one of the greatest kids' activities.
There are many forms of dance in Australia from classical (ballet?) to modern (modern jazz, hip hop, contemporary dance?) through to various forms of cultural (regional, aboriginal?). Dancing classes begin as young as pre school. Dancing is recongnised as providing many benefits, including:
Children learn social behaviour by interaction with other children
Dancing can increase their confidence
Dance can instil discipline and teach how to follow instructions
Dance can foster a love of music and the performing arts, even including opera
Dance can be good exercise
Dance can help them express themselves
Dance might just make them feel good
Dancing is fun
Dance helps with physical co-ordination
Get Your Kids Started!
The curriculum in all Australian schools is likely to include dance as a subject. However, the way in which it is taught can vary enormously. Teachers can:
Emphasise performance and the acquisition of skills relevant to a dance style
Be more concerned with creativity
Stress the social aspects
Use folk and ethnic forms to advance multicultural ideas.
So, the first step should be to talk to your child's teacher to find out just what he or she will be taught in the dance classes.
This applies especially to a commercial dance academy, where there will be the same differences in emphasis and in styles of dance offered for a fee. There is also a considerable difference in fees charged by different dance studios. In different locations, fees for classes can vary from on $13 a lesson up to on $200 for an 8-week term, while individual tuition can cost anything from $20 to $85 a lesson.
Some dance academies have pre school dance and pre school music which may start as young as 1 year old, though their lessons are not, of course, very formal.
With school-age children, you need to decide the following when it comes to dance:
Which of the approaches to teaching dance will most benefit your child?
What aspects of the school dance curriculum does not cover your child's needs?
What dance form particularly attracts your child?
How serious your child is on becoming a dance?.
Where will your child have the most fun and feel most comfortable?
Having done this
Check the ActiveActivities Directory for dance lessons in your local area
You may also like to:
Speak to other parents
Check out community board in your local area and at school
Look around the neighbourhood, if there is a dance studio, the chances are you will be driving past it every day
Expenditure on dancewear does not have to be excessive and may involve at most the purchase of a pair of dance shoes, which can be obtained from various outlets at prices starting from around $35-$50. More elaborate costumes will probably be needed if your child is to enter auditions or competitions.
Stars and Events not to be missed!
By all means watch So You Think You Can Dance Australia on TV, but also keep an eye out for great dance events in the many festivals throughout the country.
Articles related to your search: