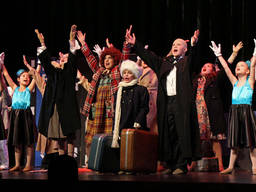 If your kids have interesting and endearing personalities and love to interact with people, they would love to learn the art of acting. Aside from being a good hobby, acting can also be your kids stepping stone to success and stardom in Australia!
A video of Acting associations
A group of young performers acting in front of the audience
Information on acting associations for kids
Are acting associations for your kids?
Don't know how to start? That's where various acting associations and plays for kids can help you. There are a lot of drama schools and theatre acting organizations in Australia that offer acting auditions for kids. Enrol your kids today and watch them shine as they dramatically become the stars they want to be! Unlike other hobbies, being a member of acting associations and talent agencies allow your children to enjoy a lot of perks not accessible to many. Through acting classes, your kids will be more people-smart and creative, some of the good stuff that they'll find useful as they grow up.
According to parents, these are some of the improvements they've seen when they enrolled their children in acting associations:
Kids become more confident of their abilities and the unique things that set them apart from others.
Acting improves kids' sensitivity to the feelings of others, making them more amicable to friends and new people they meet.
Different talent-enriching activities like acting classes, study of acting techniques and musical theatre enhance kids' imagination. This lets them excel in various school subjects and activities for kids that require imagination.
Drama exercises for kids usually involve working with other kids and adults who play a part in a story. This cultivates your kids ability to work actively with other people, at play, in school and at home. There are also specific drama associations if your kids want to focus on this!
Kids experience different kinds of stress too. Acting exercises conducted in acting classes and plays for kids provide your young ones with an avenue for releasing their emotions. This helps them become more expressive of their feelings, which minimizes or relieves stress.
Get your kids to join acting associations!
Many acting associations in Australia accept young enrolees or members, from toddlers and up. Kids are known to be very receptive and teachable, and this means that the perfect time to introduce your kids to acting classes is now. Prices for both theatre for kids and music for kids usually vary, so it is advised that you go to acting associations personally to check the facilities where your kids will have their acting lessons and what it will cost to get started. This way, you will know what necessary preparations to do to get your kids ready for their first day. Attending drama schools may cost considerable amounts of money, but everything is going to pay off as early as day one as you see your kids beam their cheerful smiles at you, happy and energized by their new-found hobby.
Visit our ActiveActivities directory for more tips on how your kids can join an acting organization in Australia. Our collection also features other kids activities that will keep your kids entertained.
Believe in your kids talents and let them act their way to the top!