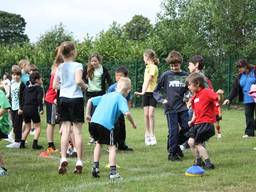 Birthday parties for kids are always being looked forward to by both parent and child, but putting sports in the equation changes everything radically. This birthday party theme allows them to sweat it out with other kids while celebrating life. Sports parties for kids are just like your usual party ideas you have for your birthdays, only with various physical activities for kids - including but not exclusively sports - fully integrated. Have them either in parks or sport venues anywhere in the country, or even just in your own backyard. Don't forget to give out prizes to the winners!
Category: Parties
Approximate age to start sports parties:1 year old
Approximate price: from $10 per child
Gear/equipment needed and approximate price range: Balls, uniforms, sporting equipment
This activity comprises of: Various sports or phyiscal activities for children incorporated into parties
Best period of the year: Year-round
School holiday programs available: NO
A video of Sports parties for kids
Kids having a sports party supervised by a trained professional
Information on sports parties for kids
Why sports parties are better than regular parties
In this day and age where indoor electronic gaming and entertainment is widespread, outdoor kids activities are being encouraged, as well as playing with other kids for them to get physically active. Studies show that children who participate in sports not only exercise but also improve their physical, psychological and social well-being.
Holding sports parties also enables your children to play with other kids, especially when more guests come. It would help develop camaraderie and teamwork, as well as make friends and grow relationships. To make the party more fun, reward the kids with medals and certificates, or maybe prizes, to fuel some friendly competition.
Some sports party organizers also offer other similarly-themed active kids parties involving physical activities as well:
dancing
athletics
gymnastics
disco
cheerleading
ultimate frisbee
superhero party
traditional party games (sack race, tug-o-war, etc)
birthday party games
olympic events (shot put, hurdles, etc)
These parties can be customized to meet whatever age of the participants. While the big kids will be having fun with the soccer parties or basketball birthday party, the toddlers can play musical games, obstacle courses, and more. Adults can join in too, if they want to. Birthday party costumes can also be used for added fun.
Make sure that children of all ages have adult supervision, and if necessary, have professional instructors help ensure their safety. In addition, the possibility of fights breaking out is there, so you must be there to keep things in order.
If you need help with your sports party, you can arrange with professional sports party organisers to take care of everything you need. They can provide qualified instructors, equipment, certificates and medals, venues, and even the party food for any party size.
Throw your kids a sports party ASAP!
Would you want to celebrate your kids' next birthdays differently? Then get your kids to celebrate with the joys of playing sports and sweating it out with other children by throwing them a sports party!
These parties are available in every budget, with some organisers offering discounts for larger parties. Its mobility can allow you to pick any venue you want, like the local park, private venues, and your own backyard. You can check the ActiveActivities directory for possible venues anywhere in Australia.
While it is recommended that the parties are to be done outdoors under sunny weather, adjustments can be made if ever the rain starts pouring, like playing indoors or using rain-friendly clothes and shoes.
If your children have been stuck indoors and playing video games or watching telly all day for most of their lives, these sports parties could help them off the couch and be more active. Who knows, maybe your kids could be the next big athlete!