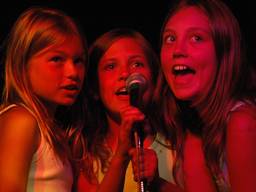 When children birthday parties are involved, kids go crazy for dancing and singing their hearts out with their peers! Dance & karaoke's popularity go hand in hand when it comes to throwing parties partly because both give way to any amateur to just perform without the pressure of being highly criticized. It's all about kids entertaining guests and kids being entertained! Dance & karaoke are the top choice for throwing a kid's celebration because energetic kids in Australia love to play fun-filled activities especially when dancing and singing are involved. With the latest hits who would not want to sing and dance to the music?
Category: Parties
Approximate age to start Dance and Karaoke:5 years old
Approximate price: in a club, $40-$60
Gear/equipment needed and approximate price range: karaoke machine rental per day ($100)
This activity comprises of: dancing, singing
Best period of the year: year-round
School holiday programs available:NO
A video of Dance & karaoke for kids
Kids performing a dance chreography at a dance and karaoke party
Information on Dance & karaoke for kids
Is dance and karaoke for your kids?
Karaoke is an interactive entertainment that lets kids dance and sing to well-know pop songs without lead vocals. Karaoke music is usually played on a video screen with the lyrics written at the bottom, to guide the singer. Dance and karaoke began to dominate the party scenes because of its entertainment value and accessibility. Everyone can easily grab a microphone and sing and dance to a variety of karaoke songs in front of their TV screens at home.
Dance and karaoke is always a part of the great kids birthday ideas because all children get to participate. As parents, you have the right amount of understanding that children are born being natural kid entertainers. They love to play, sing, dance, or anything that lets them be creative. Dance and karaoke is a great way to put them on a spotlight and highlight their potential in dancing and singing!
And it's not only about having fun of course! You might be wondering what advantages your kids will gain through a fun-filled experience of dance and karaoke and there are is an ample of things in our list your kids will surely benefit from.
It helps release tension and lessen pressure - Dance and karaoke is one of the most fun kids activities that aims to entertain. It's not about being a professional singer or dancer, it's about singing and dancing to songs your kids love the most and just have fun with it.
It practices your kids singing and dancing – No matter how entertaining dance and karaoke could be, it teaches our kids, even toddlers a thing or two on mastering a skill
It promotes leadership skills – When performing kids dance routines in a party, someone has to be a team leader in creating a dance choreography. It also promotes team effort especially in a dance number where kids need to work together to be able to execute their choreography well.
It helps strengthen their self-esteem – Dance and karaoke for kids give them room to be comfortable in their own selves in front of a lot of people. This is because dance and karaoke gives them an ability to just be themselves and just to have fun around with other people.
It a great friends and family activity – Dance and karaoke keeps friends and family closer. It is a great session for all to relax and just have fun and share a new kind of happiness.
In short, dance and karaoke is one of the great activities for kids because it is designed to make them relax, enjoy, and be with the people they love!
Get your kids involved in dance and karaoke!
A lot of kids will go crazy if dancing and singing are involved and you can get all of that and more if you throw them a dance and karaoke party! With the latest music, and a variety of tunes to choose from, stars will be born in this high-energy party!
Not so sure how to throw your kids a dance and karaoke party? Well, here are some tips on how to start!
Find a nice karaoke venue in your area that offer karaoke machines and a space for dancing. Private rooms are usually provided by karaoke bars and restaurants but if you want a friendlier and comfortable vibe for your kids, you can always do it at home, rent your own karaoke machine, and throw a dance and karaoke party yourself! It's more cost friendly on your pockets!
If you're planning a dance and karaoke themed party, it is also always safe to have a music theme or line-up of songs your kids can easily apply their dance moves to and sing along to their favorite well-known, dance songs.
In a dance and karaoke party, you have to get food and drinks prepared because kids can tire a lot from all the singing and dancing!
Decorations are also important in any kind of celebration especially in dance and karaoke parties. Utilize your space and let your place make children feel that they're stars performing! You can get creative by putting a small stage, get bubble or smoke machines or hang spotlights for a more groovy, dancing and singing kind of environment!
Now that everything's in check, your kids are now ready for a fun-filled dance and karaoke party! Let your kids put on their dancing shoes on and grab the microphone and steal the stage!
If you want to learn more about dance and karaoke in Australia and look for more fun kids activities like this, feel free to visit our ActiveActivities directory!