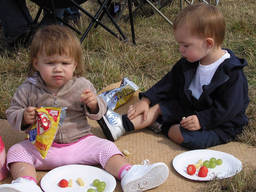 Picnics make a picture-perfect family memory!
Picnics are a great way to pass a lazy weekend afternoon in Australia – a game of Frisbee, shady spots by a river or in a park and plenty of food that can be as easy or fancy as you like!
A video of Picnics for Kids
Picnics are just gret kids activities, but to make it more fancy and a real meal, watch this video which will give you ideas about what to food to prepare!
Information on Picnics for Kids
Are picnics for your kid(s)?
Do your kids enjoy the idea of camping out? We think they'd love picnics on summer weekends! When you stake out a piece of territory with your rugs and eskies and maybe a cushion or two, it gives them a safe home base from which to explore. Going on a picnic with kids:
Is an easy way to get them engaged in kids activities like outdoor games such as tennis or a game of footie or the traditional game of cricket!
Can be a way for the whole family to watch other activities for kids, for example when your kids are involved in playing outdoor sports in a team at their local club or park
Is a great way to organise a get together with all their friends
Gets them excited – it's like going on mini-holidays!
Whatever their age, most kids will love going on picnics. If your kids love nature and outdoor fun, they will be easily entertained with ball games, a kids' play park or team games such as tag. If your kids prefer to sit engrossed in a book or an electronic gizmo of some kind, at least they are still outdoors in the fresh air!
Whether your children are running around or just sitting on the rug remember to make sure they have hats and plenty of sunscreen. A change of clothes might be advisable too if you go on picnics beside a river or lake. Kids are liable to fall in water or get a little grubby during a football match!
Get your kids to a picnic!
Do your kids love to eat outdoors? Picnics are an easy, inexpensive way for the whole family to have fun together.You don't even need to have a formal picnic set. Some of the best picnics can be thrown together on the spur of the moment with the food you have at home and a communal barbecue. You can have picnics almost anywhere there's a quiet spot to make your temporary family camp. Picnics can also be an integral part of other outdoor activities in general, such as hiking or bushwalking. Check our ActiveActivities Directory for picnics ideas! Make picnics part of your weekend family fun!