Train model making for kids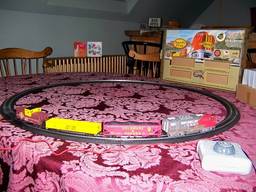 When buying birthday and Christmas gifts for your children, consider getting them some educational toys. Educational gifts are a great idea, especially for toddlers, as they provide your kids with the privilege of learning and playing at the same time. Toy cars, toy trucks, and toy trains are some of the most in demand toys, especially for little boys. Model train sets add extra fun because kids not only get to play with miniature trains, but also watch them go around miniature buildings and mountains on a model railway. Buy your kids a starter kit so they can learn to make their own!
Category: Hobbies
Approximate age to start train model making: 4 years old
Approximate price: $100
Gear/equipment needed and approximate price range: Starter kits can cost around $100, including miniature train, tracks, layout, instructions
This activity comprises of: Building tracks, decorating model displays
Best period of the year: Year-round
School holiday programs available: YES
A video of Train model making for kids
Here is an amazing diplay of a model train set that will inspire your kids!
Information on train model making for kids
Is train model making right for your kids?
In this age of video game consoles and other gadgets, it can be good to take a breath of fresh air and encourage your children to engage in activities for kids that will help them develop important skills while they are young.
Train model making can help develop both logical and creative sides of the brain. Here are the first steps to start this great hobby activity with your toddlers:
Create a simple model train layout for your children. Encourage your kids to contribute ideas about what the layout should look like. Will it have tunnels, mountains, and buildings? How long will the track be?
For beginners, it is advisable to start with materials that you already have at your home, like toy trains or cars and miniature houses. Unleash your kids' creativity by letting them improvise their additions.
Once your children are more advances, consider buying a train set kit from your local toy store or hobby shop. These kits usually include miniature trains, tracks, and layout instructions. Wooden train sets are an affordable option.
Remember to always supervise your children and educate them on proper use of tools such as scissors, glue, etc.
Get your kids to try train model making!
Once your children have learnt how to build their own model train set and model railway, you can buy them a more realistic set that they can build on their own. Before you know it, your child might develop an interest in scale models. Train model-making is best for kids ages four and over. Train sets usually start at around $100. If your child enjoys this activity, you might also think about introducing them to model cars.
To get your kids engaged even more in model trains, there are a number of places in Australia where they can learn about model train history and see some amazing model train displays. Here are some places you can visit on a family day out:
Victoria
Bulla Hill Railway
Cobden Miniature Railway
Gippsland Miniature Train Rides
Moorabbin Miniature Railway
National Steam Centre
Queensland
Brisbane Model Train Show
South Australia
Penola Fantasy Model Railway
New South Wales
Sydney Tramway Museum
Railway Transport Museum
Trainworks
Australian Capital Territory
National Museum of Australia
You can visit our ActiveActivities directory for more ideas on places to take your children to learn about model trains, where to buy model train sets, and tips on train model making and other kids activities.
From playing with toy trains to learning train model making, you could help develop a hobby in your young ones!
Articles related to your search: