Calisthenics for kids in Brisbane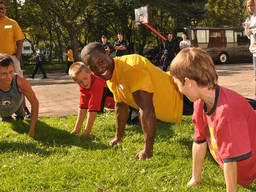 Kids need to participate in physical activities on a regular basis. An ideal activity that can make this possible is exercise. According to experts, kids should have at least one hour of vigorous physical activity every day. The recommended exercise for toddlers and children under 13 years old is calisthenics. Do your kids get the right amount of exercise and physical activity? If you live in Queensland, maybe you can try calisthenics for kids in Brisbane!
A video of Calisthenics for kids in Brisbane
Calisthenics performers dancing in Australia. Having a routine not only makes exercising exciting, it also makes it fun to watch!
Information on Calisthenics for kids in Brisbane
Why is Brisbane a great place for calisthenics for your kids?
Calisthenics is a form of exercise involving simple and often rhythmical movements. Also known as a body weight workout, calisthenics enhance fitness levels and build strength and flexibility using your natural weight. Calisthenics exercises create resistance by moving your body where it doesn?t usually move, stressing your muscles and forcing them to grow. Calisthenics are sometimes used as warm up for vigorous activities for kids like sports, and also as a full workout. They can be performed anywhere and anytime as they do not require any apparatus.
Calisthenics can benefit:
Muscular and cardiovascular fitness
Balance
Agility
Coordination
Calisthenics is also considered as one of the dancing activities for kids in Brisbane. This is because in Australia, calisthenics is also a dance sport for girls ? but calisthenics for kids are also taught to boys. It is an Australian dance sport featuring the elements of rhythmic gymnastics and ballet that requires discipline, teamwork, responsibility, and a competitive spirit. It also helps kids to have a good posture.
Calisthenics was brought to Brisbane in 1987 and the Calisthenics Association of Queensland, Inc. was formed in 1993. It brings together all calisthenics clubs in QLD, including Brisbane. Kids in Brisbane practise both the calisthenics exercise and the calisthenics dance. Calisthenics as an exercise has moves including lunges, jumping jacks, crunches, sit-ups, push-ups, squats, and calf raises ? they help the girls? bodies to become flexible enough to be able to perform the calisthenics dance routine.
Calisthenics combines dance, gymnastics, and ballet. Calisthenics for kids in Brisbane are taught in calisthenics clubs for kids. The classes are divided into age groups: tinies for kids 6 years old and below, sub-juniors for 7 to 9 year old kids, juniors for 10 to 12 year olds, intermediate for kids 12 to 15 years old, and seniors for those who are 16 years old and above. Kids clubs in Brisbane are the most ideal way for kids to learn as the environment is very child-friendly and learning is always incorporated with fun kids activities to keep the children engaged.
You can find available calisthenics classes and clubs for kids in Brisbane in our ActiveActivities Directory. You can also find there a range of fun kids activities in Brisbane as well as other areas in Australia.
If you have a tight budget, there are other alternatives in Brisbane for kids to learn how to do calisthenics other than clubs or a calisthenics camp for kids. There are less expensive instructional videos that you can purchase in Brisbane sports and fitness stores.
Calisthenics helps develop strength and flexibility, allowing kids to be also good in other sports. Exercise is important for kids to become fit, healthy, and happy. Kids love to be active, all you need to do is to incorporate some calisthenics into their activities!
Articles related to your search: