Calisthenics Clubs for Kids in Sydney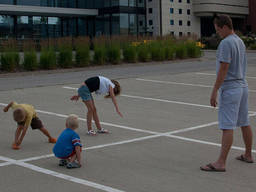 Calisthenics is a form of exercise using multiple apparatus. It intends to increase strength and flexibility of the body with movements like bending, stretching, or jumping. It helps develop muscular fitness, cardiovascular fitness, and motor skills. This exercise is better done in groups as the movements are often rhythmic and accompanied by music. Most sporting groups perform calisthenics as a form of warm-up and physical training.
A video of Calisthenics Clubs for Kids in Sydney
Calisthenics clubs will teach kids to become flexible and graceful dancers. They also help in physical fitness. Look at how talented these girls are!
Information on Calisthenics Clubs for Kids in Sydney
Why calisthenics clubs in Sydney are great activities for your kids?
In Australia, calisthenics is also considered as a dance sport. It is a team-sport that focuses on choreographed theatrical performance. Calisthenics as exercise can be performed by kids as young as 3 years old. Calisthenics as kids sports, on the other hand, can have participants starting 7 years old. Calisthenics clubs provide fun exercise activities for kids, encouraging them to be physically fit and active through programs that are incorporated with playful kids activities. Calisthenics clubs for kids also provide a friendly environment with calisthenics trainers that specialise in training kids. Try enrolling your kids to a calisthenics club – that way they can achieve fitness and gain friends at the same time!
Do you live in New South Wales? You can find calisthenics clubs for kids in its capital city, Sydney. Calisthenics is considered as the hottest dance sport in Sydney, NSW, so it is just natural to find an abundance of calisthenics clubs for kids there. Calisthenics might only be interesting for girls as it combines dance, gymnastics and ballet. But calisthenics clubs for kids in Sydney and other parts of Australia accept anyone who is interested to join, both girls and boys. Calisthenics clubs for kids are divided into age groups. Tinies include kids 6 years and below, sub-juniors for 7 to 9 year-old kids, juniors for 10 to 12 year-olds, intermediates for kids 12 to 15 years old, and seniors for those who are 16 and above.
Most nature activities for kids in Sydney and other parts of Australia include calisthenics as part of their warm-up exercises. Enroling your kids in calisthenics clubs will give them an idea of what the exercises will be like. It will also make them become more versatile, helping your kids with their other sports. Calisthenics is also one of the sports on Sydney beaches. In Bondi Beach and Coogee Beach, you will see a group of people doing some calisthenics as a morning routine exercise or as a performance for the crowd. Fun, isn't it?
Calisthenics clubs for kids in Sydney are available in gyms, beaches, recreation centres, and other facilities in your community. You can look at our ActiveActivities Directory for gyms in Sydney as well as centres for fitness in Sydney where there are available calisthenics clubs for kids. Looking for alternatives for calisthenics? Yoga and Pilates are also great forms of exercise, good for the mind and body.
Calisthenics is a popular sport and form of exercise in Australia. You can find calisthenics clubs for kids almost anywhere, but most of them are found in Sydney as it is among the latest craze in the area. If you are in Sydney, don't forget to make your kids try this fun and healthy activity. Not only will they be graceful dancers, they will also have a healthy lifestyle!
Articles related to your search: