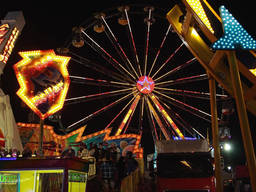 For enjoyment for all the family, take your kids to a fun park!
A fun park, or amusement park, is a facility, usually outdoors, which has rides, attractions and activities for kids of all ages. A fun park is a great way to keep the kids entertained during the school holidays!
A video of Fun Park for Kids
fun parks are a great place to have fun, altogether, from parents to kids.
Information on Fun Park for Kids
Are fun parks for your kid(s)?
Do your kids love fairground rides, flashing lights and kids activities that involve lots of noise? They will probably love visiting a fun park.
Fun parks are usually smaller than theme parks and tend not to be based around a particular theme, although they still offer many of the same exciting rides including:
Ferris wheels
Roller coasters
Teacups
Log rides/water attractions
Games such as shooting galleries
Giant slides
Dodgems/bumper cars
Are your kids sensitive to noise?
They might find a fun park a bit overwhelming, so it's probably a good idea to plan a short visit and see how they go. If you are going during school holidays or on weekends, it's usually a good idea to get there early to avoid queues. With rides for older kids as well as very young children, a fun park can provide fun for kids of all ages.
Get your kids to a fun park at the next school holidays!
Are you keen to get your kids to a fun park?
Most are open all year round but may be closed in adverse weather conditions, so it's always a good idea to check before you go. Costs can vary from upwards of $30 per child for bigger adventure parks to smaller parks where entry is free and you just pay to go on individual rides.
Most fun parks have food stalls but these can be expensive, so if you are on a budget you might want to consider bringing your own lunch, but check the park's policy on bringing your own food in first. Some fun parks have picnic facilities while others prefer you to purchase their food.
Do you know where to find a fun park?
Although the Gold Coast in Queensland is known for being home to some of the biggest fun parks in Australia, there are fun parks all over the country and a quick check in our ActiveActivities Directory should help you locate your closest one. Make sure your kids wear closed toed shoes and comfortable clothing and take plenty of sunscreen and hats!
Articles related to your search: