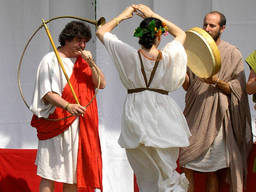 Going to theatre will maybe generate an interest in culture.
Harness your child's imagination!

Kids' theatre activities teach acting, physical expression, singing and stagecraft including set design and lighting. A fantastic way for your kids to unearth their creativity!
A video of Theatre for Kids
For over 25 years the Children's Performing Company of Australia (CPCA) has provided innovative high quality performing arts training to young people aged 5 to 18 of every ability and level of interest.<br><br> Weekly class rehearsals aim to equip young people with the skills and confidence to contribute their own ideas and listen to and accommodate the ideas of others. End of season, charity and touring performances aim to give young people a wide variety of onstage experience and to boost confidence and skill in live performances and public speaking.
Information on Theatre for Kids
Is theatre for your kid(s)?
Do your kids love to mimic other people, put on little plays and reproduce funny accents? Perhaps they are always humming, singing or dancing like their favourite celebrity. They might enjoy learning to develop these skills through theatre work. Learning to be an actor is full of opportunities for kids activities, which can range from learning to create puppets and make them dance, to putting on a musical.
Opportunities through theatre include:
Harnessing their creative self-expression
Learning lines can help improve memory
Learning to dance and move on stage can help improve co-ordination and motor skills
Can build confidence
A safe outlet for all that noisy energy!
If your kids are shy, performing on stage may not be their first choice. Keep encouraging your children many of today's famous actors and actresses state that they are actually quite shy people. But, they have studied their craft and enter another world when on stage, which helps them overcome shyness. Otherwise, there are plenty of vital backstage roles they can get involved in, such as helping design and paint sets, learning about stage lighting and direction or making costumes.
Maybe your kids don't want to perform but like to watch others? There are plenty of kids' shows that you can take them to, including musicals, comedy and classical drama. While children under 5 may not fully appreciate what's happening on stage and have trouble keeping quiet, older kids may be enthralled at the theatre, although classical drama may have to wait until they are able to understand more adult themes and scenes.
There are theatres in all major cities in Australia and some rural centres. Many suburbs have small local theatre groups which could be a great place to start. If you live in a remote rural area, you may have to be prepared to make a whole day or even overnight trip. You'll also need to be sure your kids will sit quietly throughout the performance and you might want to try and secure aisle seats in case they need a sudden toilet break.
Get your kids to the theatre!
Not sure what's on or where the nearest theatre might be? Check out our ActiveActivities Directory for your local Theatre Venues and Theatre schools.
Our website also provides detailed information on upcoming kids activities and Events.
Are your kids keen to get on stage? Find all the details you need on your local theatre schools and theatre teachers many will run workshops or groups for kids. You could even find yourself part of the performance!