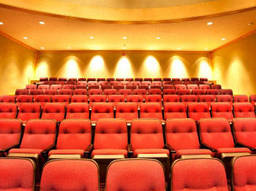 Who doesn't love going to the movies? Cinemas have been around in Australia since the late 1800s and have evolved from small rooms in the back of shops to extensive multiplexes, drive in outdoor cinemas and massive IMAX theatres.
A video of Movie Theatres for Kids
A visual example of the impressive huge IMAX screens. Experience amazing documentories or blockbusters on a giant screen. A great attraction for kids!
Information on Movie Theatres for Kids in Australia
Are movie theatres a great activity for your kids?
Going to the movies is a popular family activity. With a huge number of different films to choose from and a movie theatre located in most towns, going to see a movie is usually a fun and convenient form of entertainment. Movies are enthralling for kids of any age and they can have great educational benefits too.
In addition to your standard movie theatre, there are a number of different options for viewing movies in a more fun or spectacular way including:
Open air cinemas - definitely a good activity idea in summer!
IMAX theatres providing vast, panoramic images in very high resolution
Drive in cinemas - sit cosy in the family car and enjoy a fun movie together
Extreme Screen movies ? providing crystal clear HD images, sometimes wrapping around the audience, that best suit extreme sports documentaries
Be aware that these special cinemas tend to cost a bit more than usual, but are really great kids birthday party ideas regardless. More fun, more spectacular, they also may be more informative, educational and less violent than blockbuster movies. You may be able to view animation movies, documentaries or sports shows that are exclusive to those particular types of cinemas.
Most children will enjoy going to see a movie but very young or extremely active children may find it difficult to sit still for the entire duration of a full-length feature film. Babies in a cinema can be a distraction to other moviegoers, but most large cinemas offer special ?mums and bubs' sessions during the day for parents to bring their very young children without having to worry on disturbing other patrons in the movie theatre. You might also want to avoid 3D movies for sensitive kids or kids with glasses, as they can sometimes provoke eyestrain and headaches, and so kids just don't want to wear the 3D goggles.
Be careful which movie you take your kids to watch! Movies are rated according to their content, and movies considered unsuitable for young children will probably be labelled as ?M' or ?MA'. Movies that are aimed at kids will be ?G' or ?PG'. Some PG movies may be inappropriate for very young children as they could contain frightening material or more advanced themes. so it is important to do your research before you buy your tickets.
A movie theatre generally has a kiosk where you can purchase food and drinks, including popcorn, lollies and ice cream. Some upmarket venues have special premium areas where you can buy light meals. Other kids' activities can often be found in movie theatre complexes including video arcades, bowling alleys and sometimes even ice skating rinks. Many cinemas are located in shopping malls, making them very convenient for parking and eating.
How to organise a trip to the movie theatre
Most major theatres are open all year round although a smaller movie theatre may have limited hours of operation so it is a good idea to check first and make a booking, particularly on public holidays. You can find a list of films and show times online or displayed in the foyer of the cinema. Check for movie theatres contact number or website in ActiveActivities directory.
Movie tickets usually cost around $14 for adults and less for children. Most major cinemas offer special rates on Tuesdays as well as loyalty programs and family ticket discounts. Be careful: You are not usually allowed to take outside food and drink into a movie theatre.
So, of course you want to take the kids to the movies! It's just a question of what kind of film they like and whether you want to treat them to one of the special screens. Happy viewing!