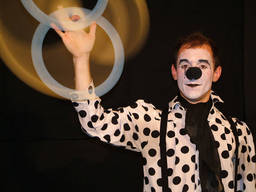 Some of Australia's best known and loved clowns come from Perth! Professional clowns know how to entertain your kids from the start of a party right through to the end. Hiring their services could make your job a lot easier next time you plan a celebration for your children!
Category: Parties
Appropriate age: All ages
Approximate price: Check with individuals, per appearance rates usually apply
A video of Clowns in Perth
Check out this awesome video of professional clowns!
Information on clowns in Perth
What's great about clowns in Perth?
If you're looking for kid's entertainment full of fun and laughter, hiring a clown can be a fantastic addition to your event! Clowns for kids in the Perth region are great party entertainers and often double as magicians too. They can be a source of great excitement for your kids - without you having to pay an enormous amount of money on something grand like a jumping castle.
If you've been to a circus in Perth, you'll have an idea of what they can do - but of course at a smaller gathering your children will get much more personalised attention.
Companies who arrange party venues and and party hire for kids in the Perth region will often have contacts for other services, such as a birthday cake suppliers, Perth face painters - and of course clowns. This can be helpful as there are clowns suited to different age groups and party themes. Prices will also vary depending on their level of expertise and the grandeur of performances - a clown who does gymnastics for example may be more costly than one who simply tells jokes.
There's such a great range of entertainers in Perth that there is a dedicated website for them, Entertainers.biz. Unique to the city, there's no doubt that Perth is spoilt when it comes to a choice of clowns and other performers!
What can I expect from clowns in Perth?
Clowns who perform at birthday parties will often also have kids activities for youngsters to participate in, from toddlers right through to older kids. For a younger group they are more likely to do a performance that the whole group watches together, whereas for the older age groups shows can be more interactive. At an older kids party, a clown will also be able to drift around providing more personal interaction with individual kids in between other things they are doing.
If you choose to hire a party venue, a professional clown may be able to offer even more activities for kids depending on the space and equipment available. Hard floors mean they will be able to run around more without worrying about damaging expensive carpet, and a stage area with backstage doors could make more complex magic tricks are possible.
A craft area is great, allowing kids to have hours of fun and take home something special. Some clowns provide craft as part of their package. Party supply stores have lots of quirky and colourful tidbits you can purchase for craft making such as balloons, glitter, glue and streamers.
Secure a clown for your kids' party today!
Check the ActiveActivities directory today for a full listing of clowns in Perth and other party caterers all over Australia!
Articles related to your search: