Public Speaking Online in a Post Covid19 World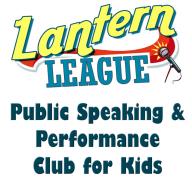 The ability to speak your mind, give a speech or sing your heart out without feeling afraid is probably one of the most important life skills on the planet at this time. Unfortunately, too many people spend a life-time avoiding audiences. They dodge meetings, faking sickies & say no to life-changing opportunities.
But what if your child learnt from a young age to shine instead of shrink? Nathalie Brewer from Yellow Lantern, says "We owe it to our kids to stop getting this wrong. Rather than focusing on public speaking as a skill that needs to be learnt, we need to treat it as an ability that needs to be nurtured. All you need is the right environment and a great group of like-minded people that are there to cheer you on!"
This year, due to Covid19 social restrictions, Lantern League had to close their clubs and launch the first-ever online Public Speaking Club for kids. "Now that we are online, I'm not sure we will go back, even after the restrictions are eased. It has been so much fun and the kids have really taken to delivering digital presentations!" says Indigo, a Lantern League coach.

The online clubs are proving to powerfully harness 21st-century learning by using Zoom. The platform is perfect for delivering meetings and speeches and gives young people a familiar forum to share their voice in a public sphere from the comfort of their own home. The break-out sessions allow members to connect with each other, share ideas, make new friends and deliver engaging speeches to screen. It is a launching pad for brilliance and breeding ground for tomorrow's passionate people.

Fortnightly club sessions include coaching and support. Young people have opportunities to speak, sing, stage or slam a speech to screen. Continual involvement in the club is designed to elevate perceptions of self and bolster confidence. The main thing is that each kid walks away from every Lantern League session feeling on top of the world. The opposite of what you would expect to feel from putting your voice on the line right?
​
Open to ages 8 - 18
Articles related to your search: