How to motivate your child to learn a second language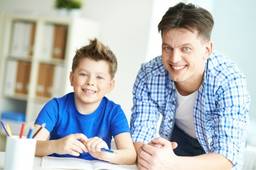 Learning a second language is a fun exploration of another culture. Children learning a second language gain advantages in having better problem solving skills, improved language skills including their first language, and overall higher academic performance compared to their peers who are monolinguals. They would also enjoy better university and career opportunities.

Parents greatly influence their children's interest in learning a second language and their motivation depends on parental involvement outside class. How can parents who do not necessarily speak a second language encourage their children to continue learning a foreign language with enthusiasm?

Here are 7 activities that parents can do for their kids:
1. Install language learning apps on your kids' tablets
There are plenty of free apps available today that can help kids to learn a second language. Outside classroom hours, kids can interact with apps to sing songs, play games, and revise vocabularies.
2. Watch foreign language movies with your kids
Plan regular foreign language movie sessions with your kids at home. This way, your kids will have more exposure to the language they are learning in their home environment even though you do not necessarily speak the foreign language yourself.
If your kid is learning Japanese, for instance, there are plenty of animation movies that are suitable for both adults and kids. Make sure you choose Japanese for the audio. There are also plenty of mega popular cartoon series that you kids can watch on a regular basis. Your kid's language teacher should be able to recommend a list of suitable cartoons to watch at home.
3. Take your kids to eat the cuisine of the culture they are learning
Again, using Japanese as an example, the family can regularly eat at a Japanese restaurant. Kids would absorb some additional information from the environment, such as the name of different foods, and interact with native speakers even just for short greetings like irasshaimase or arigato.
4. Go to cultural festival with your kids
There are many festivals held in various cities in Australia. During the event, food and cultural activities are showcased. This is a good time to let your kids experience the culture of the language they are learning, especially if overseas travel is not an option.
5. Buy your kids unique presents
For their birthday or Christmas presents, buy something that your kids can use to further their language skills, such as foreign language storybooks. With online shopping, parents can shop from international stores easily. Omnibot OhaNAS or Robi, for instance, are toy robots that can have simple conversation with humans in Japanese. Not only are they toys, but they can also help your kids practice their speaking and listening skills.
6. Take foreign language classes yourself and revise with your kids
Adult courses are more comprehensive and faster than children courses. Parent learning the second language their kids are learning can study together with their kids for parent-child bonding. Your kids will also be motivated to learn because you are learning!
7. Travel
Travelling to a foreign country, being totally immersed in the language that your kids are learning, will spark their curiosity and sustain their interest in learning the language. It is also a good opportunity to practice their language skills.
If you would like to kick-start your child's foreign language skills through enjoyable virtual classes at home, please reach out to the expert contributor who wrote this article.