Articles related to your search:
DIY Cube Bubbles
Bubbles are usually round, right? But they don't have to be! Spending quality time with my kids is the most important task of my week. But with all the other things I need to do, playing Barbie dolls or hide and go seeks seems a rip off of my time and let's just say it, it gets boring fast. Because my passion is all things sciencey, I naturally want to share my love of the exploration of life with them.
Read more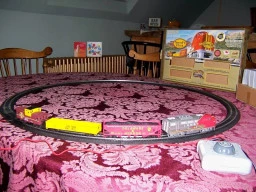 Train model making for kids
Teach your kids how to build a model railroad! Model train sets add extra fun because kids not only get to play with miniature trains, but also watch them go around miniature buildings and mountains on a model railway. Buy your kids a starter kit so they can learn to make their own!
Read more