Preschools for Kids in Tasmania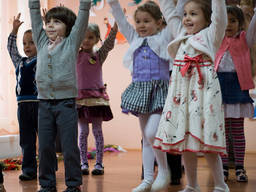 Preschoolers having their class outdoors.
Early childhood preschool in Australia is not compulsory, as preschools are separate from primary school in all states and territories, including TAS. Early learning is sometimes acquired by Australian children from their parents. But there are also a lot of things that babies and toddlers can only learn outside of the home. They need to be exposed to the outside world and mingle with other kids. The best way for your kids to experience all these is through preschools!
A video of Preschools for Kids in Tasmania
Creative play plays a big part in preschool programs. It keeps preschoolers engaged in the activities while learning and having fun at the same time.
Information on Preschools for kids in Tasmania
Why going to preschools for kids in Tasmania is a great activity for your kids?
Early learning is the first level of education for kids ? starting from birth up to 5 years of age. In Australia, it is called infant schooling or kindergarten. Preschools in Tasmania and other states and territories are usually run by the governments, community groups, or private organisations. While preschools accept toddlers aged 3 to 5 years, kids below 3 years old can be sent to day care and early learning centres. Preschool activities focus on child development integrated with kids activities that will keep them engaged and entertained such as kids play and other interactive activities like singing and dancing.
As of 2012, there are about 120 schools and organisation in Tasmania that offers preschool education. These preschools support early literacy and school readiness. In Tasmania, preschools are offered to kids who are already 4 years old as of January 1 of the reference year.
What are the important things that kids can learn in preschools?
Preschools aim for children to develop a strong knowledge basis needed for academic success. Preschools provide the essential cognitive foundations:
Comprehension and making predictions
Problem-solving skills
Language and mental images
By learning these cognitive foundations in preschools, kids will be more prepared for their first year in school. Preschools also help them become independent learners. Activities for kids in preschools make them experience what it's like to be in a normal school. These activities also help shape a child's personality.
When finding the right preschool for your kids, it is ideal to choose the one with programs that satisfy your kids' needs and preferences. Here are some questions you may want to consider when choosing for a preschool for your kids:
Do the preschool activities help support your kid's development?
Does the preschool program allocate enough time for indoor and outdoor play; group and individual activities; snacks; and creative and imaginative activities?
Is the preschool well-equipped with toys and other materials that contribute to the children's development
Do they organise field trips?
Do they provide learning materials that will keep your kids engaged?
What is the teacher-student ratio?
It is also important to check if they have complete facilities like clinics and playgrounds; as well as their years of experience and the academic qualifications of the teachers.
Feel free to browse our ActiveActivities Directory for a comprehensive list of preschools for kids in Hobart and other regions of Tasmania. Aside from attending preschools, you can also find fun preschool activities for your kids in Tasmania including playgrounds, play centres, museums, and art galleries, and story time sessions at libraries.
Early learning is part of the building blocks of every child's development. Make sure they get proper early education. Enrol them to preschools!
Articles related to your search: