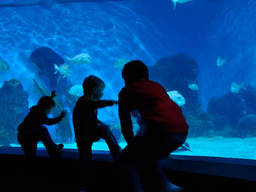 Aquariums were first created by the ancient Sumerians as early as 2500 B.C. They used aquariums to keep fish confined so they could use them as a food source. Over the years, however, aquariums have grown to be more than just a confinement tool. They are now considered a popular public attraction for the whole family. Melbourne Aquarium is the most popular aquarium open to the public in Melbourne. Step into a public aquarium and amaze your kids today!
Category:Education
Approximate age to start going to aquariums in Sydney: 2
Approximate price: Free - $20
This activity comprises of: Aquarium viewing, exploring, fish feeding, interacting with animals
Best period of the year: Spring
School holiday programs available: NO
A video of Aquariums in Melbourne
Your kids will love discovering the marine life at the Melbourne Aquarium!
Information on aquariums in Melbourne
Are aquariums in Melbourne for your kids?
There are many Melbourne family attractions that you and your kids can choose from. When travelling to Melbourne with your children, be sure to look for places that offer exciting and educational activities for kids. If your children are animal lovers, or if you want them to learn more about biodiversity, an aquarium in Melbourne or perhaps a zoo is the perfect option!
Marine aquariums in Melbourne showcase many breeds and species of fish and other marine animals from all over the world, including penguins, sharks, and seahorses.
The Melbourne Aquarium is one of the largest public aquariums in the world, and is an ideal place to explore if you're looking for fun things to do in Melbourne. The Melbourne Aquarium offers plenty of attractions for toddlers and children, including a fish feeding program, a seahorse nursery, and an opportunity to see penguins up close. It is also one of the most popular Melbourne tourist attractions.
The Melbourne Aquarium includes the following kid-friendly attractions:
An Antarctica exhibit: this attraction gives you and your kids an opportunity to watch King Penguins and Gentoo Penguins slide across the ice.
A Weird and Wonderful exhibit: this attractions allow you and your kids to see an astounding variety of sea creatures like the colour-changing cuttlefish and spiky lionfish.
A River to Reef exhibit: this attraction showcases a variety of species that your kids can view from a floor-to-ceiling aquarium.
A Sharks Alive exhibit: this attraction allows you and your children to view sharks up close from a fish bowl viewing area. Your kids learn heaps about these fierce and interesting predators.
If you're travelling to another part of Australia, you can visit the ActiveActivities directory for a complete list of aquariums in the country.
Get your kids to visit the aquariums in Melbourne!
Melbourne Aquarium charges $35 per adult and $21.50 per child aged 4-15 years. If you're visiting with a toddler, then you're in luck! Toddlers are given free entrance. Melbourne Aquarium ticket prices also come with online discounts and group discounts, so try to take advantage of these.
If your kids are over five years old, you can also purchase an Access All Areas Tour Pass, which lets them see the aquarium's food preparation area, vet office, and research laboratory, providing them with an all-round educational experience. This pass costs $16 for children and $20 for adults.
When it comes to planning your visit, make sure you check the hours of operation of the aquarium you have chosen to visit. It also pays to check the attractions of the aquariums online to see which kids activities are available, helping you plan your day accordingly.
In order to make the most of your aquarium visit, be sure to guide your children along the way. Prepare to answer their questions or hire a guide. Be sensitive to your children's wants: take a break if they're exhausted from walking around, as aquariums can be a bit overwhelming. Think about how you can avoid the souvenir shop if you don't intend on buying anything to avoid disappointing your kids.
Get ready to educate your kids on the wonders of the ocean!