Scouts for kids in Adelaide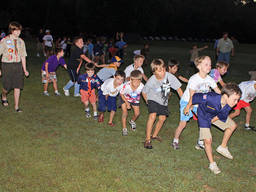 Scouts Australia is an organisation for boys and girls 6 years old and above. Scouting aims to support the youth in their physical, mental, and spiritual development. Kids learn important skills such as leadership and survival skills in Scouting, enabling them to become more effective contributors to society. The Scouts program includes activities for kids, such as camping, hiking, aquatics, and sports. Encourage your kids to dedicate their time in productive activities. If you live in South Australia, let them join the Scouts in Adelaide, SA!
A video of Scouts for kids in Adelaide
Scouts is one of the largest youth movements in Australia. It helps create a future leader out of your adventure-loving kids.
Information on Scouts for kids in Adelaide
Why are Scouts activities for kids in Adelaide great activities for your kids?
Scouts Australia is divided into state and territory branches. The Scouts in South Australia is located in Adelaide. The members of the Scouts are divided into age groups: joeys (6 to 8 years), Cubs (7 to 11 years), Scouts (10 to 15 years), Venturers (14 to 18 years), and Rovers (17 to 26 years). Each group promotes different purposes, appropriate to the members' ages. For every activity that they have done successfully, they will earn a badge or an award. As they mature, and also upon earning the required badges and awards, the members advance to the next group or level. The Scouts develop lots of useful skills, from having a sense of identity and sense of adventure, to a sense of responsibility and service to the community.
Originally, the Scouts used to be just for boys, mainly because the adventure activities included may activities that only appealed to boys. However, in 1971, the Scouts started accepting girls. Today you will find many girls in the scout meetings.
Scouts SA's slogan is "yesterday's values, today's adventures, tomorrow's leaders." Scouts SA aims to teach values incorporated with fun adventure kids activities that will help shape them to become future leaders. Scouts Australia, including Scouts in Adelaide, has a program delivered by nationally accredited trained leaders in safe environments. Aside from the Scouts SA group in Adelaide, there are also other scout groups in other districts of South Australia.
Just like the Scouts, Sea Scouting is also part of the scouting movement. Sea scouting emphasises on water adventure activities such as sailing, canoeing, kayaking, and rowing. Sea scouting programs are sometimes included in the Scouts program, mostly for older Scouts. Sea Scouts members learn about engines and navigation. They also compete in regattas – the sport of boat racing.
The Scouts usually hold their meetings and other activities in a scout hall. Scout halls also serve as venues where the community can hold meetings, trainings, family days, camping, and other events. Visit our ActiveActivities Directory if you're looking for a scout hall for hire. Our directory also contains a list of headquarters for cubs for kids in South Australia and other groups of the Scouts.
Adelaide kids looking to grow up as mature and responsible individuals. Joining the Scouts will inspire them to commit to a life of service at a young age. Your kids' participation in the Scouts will be worthwhile, enlightening, and fun!
Articles related to your search: