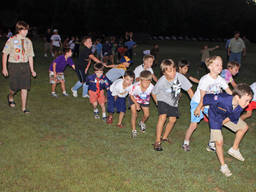 Cub scouts participate in various physical activities, such as a cooperation relay, to promote teamwork and self-reliance.
Make a great leader out of your kids!
Scouts Australia is a youth organisation for kids and young adults aged 6 to 26. It is part of the worldwide Scouting movement. Scouting was founded in Australia in 1908 by Lord Baden-Powell. Before it used to be just for boys, but starting in 1971, girls also participate in the scouting movement.
Cub Scouts, or Cubs, is part of Scouts Australia. It includes boys and girls cubs aged 7 ® to 11. A group of cubs is called a pack, made up of 20 cub scouts or less. The uniforms of the cubs in Australia are navy blue short sleeved shirts with yellow collar, sleeves, and shoulders.
The aim of Cubs for kids is for the cubs to have fun while learning. It also aims for their physical, intellectual, emotional, social, and spiritual development. Its mission is to contribute to the education of young people, to help build a better world, where people are self-fulfilled as individuals and play a constructive role in the community. It trains them to be always prepared for any situation they might face.
The Cubs programmes include kids activities that are done outdoors including cubs games, camping, woodcraft, first aid, swimming, hiking, and sports. For all the activities for kids that the cubs will complete, they will earn badges and special awards that will help them advance to the next level. These badges are called boomerangs and Grey Wolf Award. The boomerangs are acquired by completing mandatory activities from the Cub Scout Handbook ? the bronze boomerang for 8 year old cubs, the silver for 9 year old cubs, and the gold boomerang for the 10 year old cubs. The Grey Wolf Award is the highest level badge, similar to the Australian Scout Medallion. Cubs who received the gold boomerang and completed the Cub Leadership Award can receive the Grey Wolf Award. There are also other special badges. This is a fun way of keeping your kids active and busy. Let them be part of the Cubs!
A video of Cubs For Kids
Cub Scout camping trips develop responsibility and independence in every kid through fun and exciting activities.
Information on Cubs For Kids
Will your kids like to become Cubs?
Joining Cub Scouts will nurture your kid?s courage and presence of mind for them to become better individuals who can contribute to the community.
Fun
Not sure which camp your kids will enjoy? The Cubs might be perfect for them! They will get to learn so many things while having so much fun at the same time.
Adventure
Cubs are for kids who like outdoor activities. Let them try outdoor adventures like rock climbing, camping, canoeing, and hiking.
Socialisation and Fellowship
Joining the Cubs is also a great way to feel a sense of belonging, make new friends and help each other be the best they can be.
Growth
The Cub Scout pledges duty to God and family. Included in its purposes is for the cubs to attain spiritual and character growth, as well as social responsibility training and personal fitness.
Skill Development
The Cub Scout?s motto is to ?Do your best.? Completing the activities not only will get your kids badges, they will also develop skills that they can apply to every aspect of their lives.
Diversity
Cubs get to mingle with other kids from different backgrounds. They will learn how to get along with different kinds of people with different kinds of ethnicity, income levels, and religion.
Before, only boys are allowed to join the Cubs, as the girls can join the Brownies, but now both girls and boys can join the Cubs but they are still sometimes in separate groups.
Is your kid?s age not within the age range for Cubs? Don?t worry; Scouts Australia is divided into different age groups. The youngest are the Joeys (6 to 8 years old), next are the Cubs (7 ® to 11 years old), then the Scouts (10 ® to 15 years old), the Venturers (14 ® to 18 years old), and the oldest are the Rovers (17 ® to 26 years old). The different levels ensure your kid?s growth and maturity as they grow up. The ActiveActivities Directory contains comprehensive information on the Scouting movement together with many fun and educational activities for your kids.
Shape your kids to become better citizens. Send them to a positive and non-competitive kids activity. Get them to be part of Cubs!
Articles related to your search: