Pottery Painting For Kids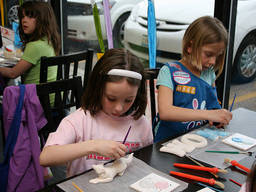 Let your child indulge their creative side with pottery painting!
Pottery painting involves painting pottery creations or ceramics with special paints. A versatile activity that can be done at home or a studio, pottery painting is a perfect party activity or just a fun leisure pursuit!
A video of Pottery Painting For Kids
There are stores and workshops that provide ready made pots for kids to paint on their own. Personalised pottery is a perfect gift because they have sentimental value.
Information on Pottery Painting For Kids
Is pottery painting for your kid(s)?
Do your kids enjoy expressing their creativity? If they like painting and arts and crafts, they're probably going to love pottery painting. Decorating clay pottery and ceramics can be a fun and satisfying activity for kids of all ages. Creative kids can enjoy hours absorbed in this activity so if you're looking for an activity or hobby to engage kids during weekends and school holidays, this is one to consider. Pottery painting for kids has many benefits including:
Stimulates creativity
Can help kids develop fine motor skills
Satisfying and gives kids a feeling of accomplishment
Can be a great way to make original gifts for friends and family
Great way to keep kids busy for hours!
Fantastic idea for parties and gatherings
There are a number of different objects that kids can choose to decorate including plates, bowls and tiles. Pottery painting kids activities can also include glass painting, ceramic painting and porcelain painting. Kids can either make their own pottery objects or use premade ones.
If your child loves to paint and draw they will probably enjoy choosing paint colours and learning the different techniques of pottery painting. If they aren't keen on pottery painting, why not try other types of painting activities for kids such as watercolour painting and oil painting?
Get your kids to start pottery painting!
If you're wondering where to get your kids started with pottery painting why not check out our ActiveActivities Directory? There are plenty of pottery schools all over Australia that offer pottery painting classes and tips.
Looking for an idea for your next kids' party? Pottery painting is a great kids' party idea and there are even mobile pottery parties which will bring pottery supplies and all other materials including acrylic paint and brushes to your special occasion. Pottery painting is generally fairly affordable at around $30 a session which includes supplies and firing fees. Firing is when the finished product is baked in a kilnÿ to help set and dry the pottery and painting. For a pottery painting party you can generally expect to pay around $200-$300 depending on the number of children.
Get your kids involved in pottery painting and enjoy watching them create unique one off pieces which they (and you) can be proud of!
Articles related to your search: