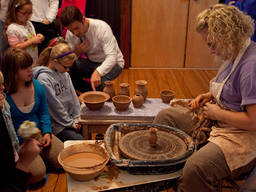 A kid's creativity can be funneled into creating useful pottery.
Your kids can enjoy moulding, shaping and creating their own unique pieces!
Pottery uses clay to create pieces of art or items such as pots, a vase and plates. Pottery is popular in Australia as arts and craft activities for kids and a way for many people to earn a living.  Kids' pottery can help encourage your child's creativity!
A video of Pottery For Kids
Three boys having fun while painting pottery. Your kids might find this hobby interesting. Enrol them to pottery lessons during the holiday and let them unleash their creativity.
information on Pottery For Kids
Is pottery for your kid(s)?
Do your kids enjoy crafts? They might like having the satisfaction of creating their own objects out of clay and covering them with paint. Great for creative minded kids who love to get their hands messy, pottery is a fun and relaxing activity for kids of all ages and can be a great way to create original gifts for family and friends.
Some of the benefits of pottery based kids activities include:
Encourages and stimulates creativity
Helps develop fine motor skills and hand strength
Teaches kids patience
Helps kids develop problem solving skills
Can build confidence
Pottery, like ceramic, is a clay-based art medium, but whereas "ceramics" usually refers to more delicate items, such as porcelain, "pottery" generally describes a more robust product for everyday use, such as earthenware or stoneware. Kids often enjoy learning how to work with clay, particularly using a pottery wheel and it can be a great way for kids to make friends.
Make sure kids are dressed in old clothes and have any loose hair tied back before they get involved in any clay based kids activities. It might even be a good idea to invest in a painting smock or check if your local pottery studio has one which they will let you borrow if your child is taking lessons rather than playing about at home.
Get your kids to start pottery!
Are your kids keen to learn how to make pottery plates and sculptures? Why not check out our ActiveActivities Directory for pottery courses in your area? Many art classes offer pottery as part of their programs. Pottery classes are generally fairly affordable and you can expect to pay around $15 a lesson with all supplies included.
For a fun kids' party idea, why not hold a pottery party? Before you know it you might have a whole new set of kitchenware!
Articles related to your search: